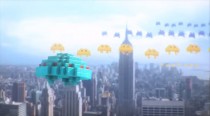 With the forthcoming UK cinema release of Pixels this week it is an opportune moment to look back at the 2010 short film that inspired the feature. The inventive short was directed by Patrick Jean. 
The film tells the tale of old 8-bit computer characters coming to life and running amok in the city of New York. For those of you who are interested in gaming in the early eighties there are quite a few familiar characters on show. The film is cleverly assembled with the animation and the real life footage blending seamlessly.
How this fares as a full length film starring Adam Sandler will be known very soon. In the meantime, enjoy.
Latest posts by
John McArthur
(see all)