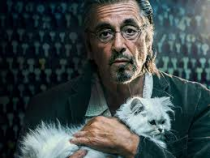 Al Pacino appears to be taking a lot more care with the roles he is taking on these days. As well as being age appropriate he is also pushing himself a bit more. The recent film Danny Collins is a good example of that. Instead of overblown characters that have difficulty with the volume of their voice he is showing a far more subtle style of acting. His latest is the downbeat drama Manglehorn.
Having spent his adult life working alone as a locksmith, Manglehorn is set in his ways. He lives alone in a house with only his cat for company. His days are spent helping people unlock items for which their keys have been mislaid. It is a quiet life and one that he is resigned to. He has one regret. As a young man he let his one true love leave him. He has been longing for her ever since. He writes her endless letters which always get returned. His obsession was the cause of his marriage breakup and the estrangement from his son. Almost by accident he starts to have a relationship with the teller at the local bank (Holly Hunter). This could be a chance for him to move on and start to lead a more fulfilling existence.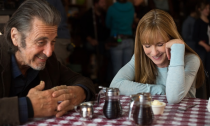 The film is very downbeat in tone and is quite slow. In fact not much actually happens. Al Pacino plays the lead character well as you would expect. He is all about the details of Manglehorn. He has let himself age without vanity. His hair is grey and he looks tired and old. He is comfortable in his own skin. It is an intimate portrayal which is a master class in screen acting. Where it doesn't work is the dramatic shifts in the character. For long periods he is working away, carrying out complex and intricate tasks, then for no explained reason at other times he is falling over his own feet. It is never expanded and feels a little odd.
The story centres on the main character. The supporting cast is very much in the background apart from the terrific performance from Holly Hunter as the bank teller. In her own way she is as set in her ways as Manglehorn. She is looking for some form of human contact. Hunter has a great solo moment where she is pouring her heart out. It is easily the highlight of the whole film.
It is beautifully shot. The scenes are dark and textured. The screen is always filled with the workings of his shop and the detritus of his home life. The surroundings only accent the sense of loneliness and isolation that is his life. The use of certain props like Manglehorn's small yacht and the bees that have attached themselves to his letterbox are used as ways of explaining the changes in the character. The yacht comes to represent freedom that he has yet to find and the bees, as annoying as they are in their current location, look to represent his reluctance to change. Change could mean getting stung.
Overall, an interesting and sparse film that shows that Al Pacino still has what it takes.
Latest posts by
John McArthur
(see all)