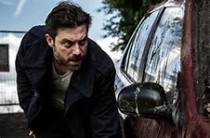 In association with Porterfrith we have a pair of tickets to give away for two very special screenings of the new thriller The Treatment. The film, from director Hans Herbots, centres on detective Nick Cafmeyer. On the surface he has everything. A successful career, intelligence and good looks cover the darkness within him. When he was nine his brother disappeared and the case has remain unsolved. When a similar case comes across his desk he is forced to confront his demons and try to remain professional.
There will be two very special screenings of the film with an introduction and Q&A.
On the 21st of August at Picturehouse Central at 8:45 pm, the film will be introduced by the director and he will take part in a Q&A after the screening.
On the 22nd of August at the Ritzy, Brixton at 8:45pm, the director will be in attendance for the introduction and after the screening there will be a Q&A with him and the lead actor
To win a pair of tickets to the screening of your choice please answer the following question.
Who wrote the novel that The Treatment is based on?
Please send your answer and preferred venue to competition@moviescramble.co.uk with subject The Treatment. The competition will close at 12:00 pm on Thursday 20th of August.
The Treatment is released on the 21st of August.
Latest posts by John McArthur
(see all)