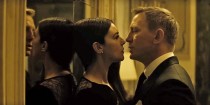 The 007 YouTube channel has released a cool featurette which focusses on the female leads in the new James Bond movie, SPECTRE. They are careful to note in the title that it isn't Bond girls, which brings to mind some previous characters that were on screen more for their looks rather than their necessity to the plot.
With SPECTRE it seems to be all about the characters and how they fit into the world of Bond. Monica Belluci caused a bit of a stir  with her casting as she is older than the usual female lead. It is a bold piece of casting on the part of Sam Mendes as Belluci is a fine actress with string of strong performances behind her including moviescramble favourite Shoot 'Em Up. She is also the first age appropriate female lead in the franchise. Although younger, Lea Seydoux has an impressive resume, with credits in some of the most interesting films of the last few years including Inglorious Basterds and The Grand Budapest Hotel.
Editor-in-Chief at Moviescramble. A Fan of all things cinematic with a love of Film Noir, Sci-Fi and Julia Roberts in Notting Hill. He hopes to grow up some day.
Latest posts by John McArthur (see all)