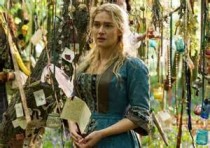 The film industry in the US is starting to wake up to the fact that there is a market for major releases featuring strong and prominent female characters. Reece Witherspoon, frustrated at the lack of decent roles, started her own production company to develop films of this nature and has recently had one of her films highly praised and  recognised during award season. A Little Chaos, with Alan Rickman in the directors chair,  falls neatly into this category with Kate Winslet excelling in the lead role.
Set in France during the reign of Louis XIV, Winslet plays the part of Sabine De Berra, a landscape gardener who is invited to put forward her ideas for a garden in the newly developing Palace of Versailles. Although her ideas are unconventional she makes an impression on Andre Le Notre (Matthias Schoenaerts) who has overall control of the project. Her appointment is not enthusiastically welcomed by some at the royal court. She must overcome the doubts of the king (Alan Rickman) while attempting to weave her way through the internal politics of the monarchs very large entourage.
This is only the second film that Alan Rickman has directed with the first, The Winter Guest being released nearly twenty years ago. It doesn't look like it. He skilfully pulls together a film that is a visual treat and an absorbing drama. Forgoing the chance to take centre stage in the production as well, he wisely makes Sabine the main driver of the film.
Kate Winslet has always been seen as a very capable actor and her she is in her element as a strong and independent female in a world that is ruled by men. Winslet is able to give the character depth while quietly exposing the more sensitive side of Sabine. It is a nuanced performance that develops as the story unfolds. She is not made out to be some sort of super gardener and is frequently seen to struggle. It here that her skill at working and inspiring others comes into play. He philosophy allows for a little chaos on her work and her life as it inspires and challenges her.
Around this central performance there are some fine supporting roles. Matthias Schoenaerts is solid as Andre. He is called upon to be reserved and stoic in the face of criticism over his work and the very public state of his marriage. He comes across as a character with dignity. Rickman plays the part of Louis XIV. He portrays the detached king with ease. To his credit he never tries to steal the scenes he appears in. His head to head moments with Winslet in the palace gardens of Versailles is the centre piece of the film and works very well. As usual Stanley Tucci totally nails it. In the role of the effete Phillipe he acts everyone else off the screen. In my eyes he can do no wrong and is the definition of a 27 percenter (an actor who makes any film 27 percent better).
The film is beautifully shot, showing off the gardens at their best. There is a warmth to the scenes through the use of the various colours highlighted. The attention to detail with the period settings and costumes lends an air of authenticity to the whole film. It is a very good looking film on what was reported as being as very modest budget.
Overall, a visually entertaining and dramatically thoughtful film. Recommended.
Editor-in-Chief at Moviescramble. A Fan of all things cinematic with a love of Film Noir, Sci-Fi and Julia Roberts in Notting Hill. He hopes to grow up some day.
Latest posts by John McArthur (see all)