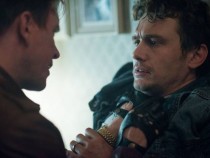 A lot of actors try to maintain a balance between working for studios and working with independent film makers. For some one helps to offset the other in terms of salary. James Franco is such an actor, having become a well-known actor through Pineapple Express and Rise Of The Planet Of The Apes. The new release, Good People, is an example of a smaller budget, smaller scale film.
Tom (James Franco) and Anna (Kate Hudson) are struggling to get by. Transplanted from the US to London in order to renovate a property left to Tom in his Aunt's will, they find themselves living in a run down house while trying to find the money to complete the work. They find themselves facing eviction and they can see no way to turn it around. They find their lodger dead in the basement apartment of their house from an apparent overdose. In the process of cleaning up find a large bag on money that the lodger stole from a drug dealer and then double cross his partners in crime. The couple have to decide what to do. Keep the money and solve their problems? The decision is made more tricky with the former colleagues of their dead lodger sniffing about and some unwanted attention from the drug dealers and the Police.
The film certainly benefits from two leads who are well known. It helps to bring in people who would not normally watch this type of film. It is a downbeat  thriller which relies on the story and the performances to carry it along. On a limited budget it just about does this. Franco and Hudson are, as ever, good value. They have a natural chemistry which lends to believability of their situation. Where it doesn't work is with Hudson pregnancy sub plot. it feels a bit tacked on to give her character something else to do and doesn't drive the main story forward at all.
Unfortunately the film only really engages up to a point. The first two thirds of the film are very good. There is a lot of build up which is paced well. All the elements come together nicely with Tom being stuck in the middle of the conflict between the drug dealer and the thieves. it is quite gripping and you get a real feeling that it could erupt at any time. Alas the third act lets it down badly. It undoes all the job work and resorts to a clichéd action finale that sits poorly with the drama that went before. It is always a shame to see this as the characters suddenly become hardened and ruthless.
Overall, a film that fails to live up to the initial interesting build up.
Editor-in-Chief at Moviescramble. A Fan of all things cinematic with a love of Film Noir, Sci-Fi and Julia Roberts in Notting Hill. He hopes to grow up some day.
Latest posts by John McArthur (see all)