In the late 1980s, Eazy-E, Ice Cube, Dr. Dre, DJ Yella, MC Ren and the D.O.C. got together to form the now infamous rap group N.W.A. and took hip hop to a whole new level of popularity with their straight up lyrics and talent in the production booth. Straight Outta Compton tells the story of how the band got together, how they made the big time and how it all fell apart, but more importantly, it captures the energy of an important moment in American popular culture.
The story starts and finishes with Easy E (Jason Mitchell), the drug dealer turned rapper from the streets who has the business sense and money to start the group off. His primary concern is money, and in that he forms a close and rather strange bond with Jewish manager and business partner Jerry Keller which alienates him from his friends and eventually leads to the downfall of the group and arguably of Easy-E's life. Dr. Dre (Corey Hawkins) is the badass DJ, introduced in an iconic scene lying on his bedroom floor surrounded by records and smoke.   Everything in life comes second to music for Dre, his biggest turn on is a banging beat and an electronic riff. Ice Cube (O'Shea Jackson Jr) is the writer and talented MC, riding on the school bus writing in his notebook, slow motion and close up shots showing us his inspiration in the streets around him.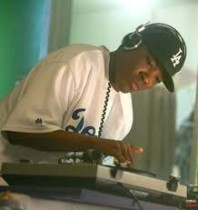 The first half of the film is invigorating, it is impossible not to get caught up in the musical buzz as the boys jam on the decks and when they lay down the first tracks of the album that will propel them into stars of the hip hop scene. The fun of the creativity process is however constantly interrupted by either gangsters or cops. The LA police force are the bad guys here, the boys can hardly take a step on the sidewalk without the police throwing them face down onto the ground. There is no reasoning with them, nor respect of human rights. One glance seems to be all it takes to confirms that every black teenage boy is a gang banger and a thug. The threat of violence is ever evident, the cops don't just break down the doors – they drive up with a battering ram and a tank. This creates a tense atmosphere and the feeling that tragedy is only around the corner and of course, it is. Personal tragedies are cut with newsreels of the beating of Rodney King and the 1992 LA riots. Films like this are more important than they seem. This is a film about a rap group and popular music, but it is also a film about racism. It brings home the very real human injustices that minorities face in a way that mainstream audiences can relate to, by making them care about individual characters and the injustices they have faced in the very recent past.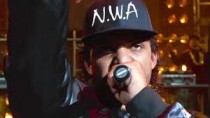 When the money eventually comes in, excess is only a step behind and the fun quickly turns to debauchery. The boys find themselves caught up in corporate America where creativity is exploited for the ultimate goal – money. The boys swap one battlefield for another, and guns and truncheons are swapped for money and contracts. This is where the story does get a little thin, and the truth of some of what did go on is either softened or missing. The portrayal of Dr. Dre as an all out decent guy and a peacemaker, is very much in his favour. His character is left a little two dimensional in this sense, I can't help thinking that making him a little more real would have given the movie more credibility and been more interesting.
If you can't stand rap music, it is safe to say, you will not like this movie – it's kind of what it is about. I think that hip hop music along with other kinds of music can capture that moment in a young person's life when they discover self-empowerment. Often hip-hop artists and rock bands are able to make you believe that no matter what is happening around you, there is an energy available to you that can lift you high above your circumstances. If you don't get that about music, you won't get that about this film. There is also something truly liberating about cursing freely to a nasty beat, a relatively risk free way of rebelling against the establishment.
Ultimately, this is a movie with heart, and with something to say. It is one of the most complete films I have seen in a while, and I thoroughly recommend you see it in a cinema. The film shows wonderfully how artistic creativity can help individuals rise above circumstance, above social status, and above expectations. The narrative flows as smoothly as the rhythm in the tunes. The editing is flawless and the scenes stylish and the sound production is, of course, fantastic.
Latest posts by Vhairi Slaven (see all)