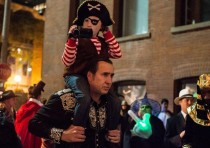 You really have to have some sympathy for the hardcore fans of Nicolas Cage. At times they must just shake their heads in frustration. Cage is a very good actor and given the right role he is superb in front of the camera. Unfortunately he chooses a relatively large number of roles that are some way short of being brilliant. In fact most of them are terrible. Looking to add to the latter pile is the new film Pay The Ghost.
Cage play the part of a college professor whose son goes missing during a Halloween parade. His frantic search attempts led nowhere and he fears the worst. One year later he begins to receive strange messages which lead to realisation that some other worldly had a hand in the disappearance. The trailer is a bit nuts. If it does in fact give a flavour of the final film then I'm afraid this will be a pretty poor entry into Cage's CV. Of course it might be so bad that it's good.
Pay The Ghost is released in the UK on the 23rd of October. Be afraid.
Latest posts by
John McArthur
(see all)