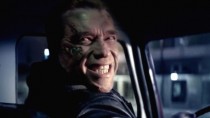 If you were upset over news that the Terminator franchise had been put on indefinite hiatus, then prepare for some good news courtesy of producer Dana Goldberg. "I wouldn't say on hold, so much as re-adjusting," she said. "Do we intend to have a next step of Terminator? Yes, we do,"

It's worth noting that before Terminator: Genisys hit cinemas, release dates were announced for two back to back sequels as well as talk of a TV show. Despite raking in $440.2 million worldwide, Skydance Pictures were disappointed with the domestic numbers.
Goldberg continued, "We're ultimately happy with overall worldwide numbers. Do I wish we would have done better domestically? Absolutely. Happily, we live in the world where the domestic number had a level of importance 10 or 15 years ago — I'm not saying it's not important, it is — but we have to play to a worldwide market. In terms of Terminator, the worldwide market paid attention, but we're not taking the domestic number lightly."
If you were one of the many people who hated Genisys (I liked it) then be assured that the film studio is listening to you. Goldberg explained that they will use "data and research to do a worldwide study and really talk to audiences about what they loved, and what maybe didn't work for them, so that the next we take with the franchise is the right one."
At least they're not rushing ahead with a sequel, although to be fair you had more chance of Metallica producing an album in the time it took to release a Terminator film. Despite the criticism the follow-ups to Terminator 2: Judgement Day received, at least the Hollywood isn't churning out entries. There's always a silver lining.
Source: The Wrap
Latest posts by Thomas Simpson
(see all)