Fired up by the deeply moving Suffragette and the recent press about sexism in Hollywood, I have been thinking about the inequality in an art form that I love so much, I don't think I could have made it through this life without it. However, there is a lot that is flawed in the film industry and we can't ignore that. Many aspects of filmmaking have moved with the times, yet in terms of gender equality, progress seems stagnant.
Earlier this month, Variety magazine reported that only 12 % of lead protagonists in 2014's top grossing films were women (the Centre for the Study of Women in Television and Film). Think that's bad? The figure was 15% in 2013 – it ain't getting better. Between 2009 and 2013, only 26.2% of the crew on British films were female according to a report by British producer and writer, Stephen Follows.
Why is that a problem? Well, when a man is behind the camera or holding either the wallet or the pen, real women or what real women want to see does not always make it onto the screen. In a creative industry predominately employed by men, a predominant male perspective is the output. Most men acknowledge that they don't understand women's brains – so why not acknowledge that women know better what kind of films women like to watch?
It has wrongly been assumed in the past that women don't like action movies or that they are happy that the hero is a man. Yet, I watch these films and I would rather be James Bond than a Bond girl, Indiana Jones than the girl chasing after him, and Captain Jack Sparrow than Elizabeth Swann. I enjoy movies where there is a strong female lead with the kind of charisma that these male characters have.
When women are misrepresented culturally, it means that the really bad guys' actions are overlooked, particularly when they are in a position of power and wealth. More and more famous actresses are speaking out about the sexual harassment they have experienced auditioning for roles in the film industry. There is also a problem when the box-office draw and Oscar nominated female actress is paid less than her male co-stars.
I can't singlehandedly change these things, but as a writer, I can put my words out there and say that the fight for equal rights for women in all areas of life and in all countries of the world is not over. I can make it known that I do not condone sexism, and that I understand it still exists. I can be more mindful in my writing and in pointing out when there is an unrealistic lack of female representation. I can also, as Meryl Streep recently pointed out at the BFI press conference for Suffragette, change things by simply making my female perspective on film known – and you my friend, are helping simply by reading it.
But… the best thing I can do as a writer is: imagine. So, for all the female actresses in the world who have had to take shitty roles because there was nothing else there, and for all the women who (like me) want to be the hero instead of the hero's girlfriend, I have re-imagined the plots of famous classic movies and given the male lead roles to female actresses.  Yes, it is just for fun. Yes, some of it is pretty ridiculous. However, I have to say, the truth is, many of the films would be just as good with female leads, particularly with some of the incredible talent in female actresses across the years. Enjoy.
Star Wars
I apologise in advance, I know this is not going to go down well. I do have to say despite some criticism for having too few female parts, Star Wars should be commended for having one of the strongest, coolest, most intelligent fe
male protagonists in action movie history – Princess Leia (why does she not get a lightsaber though?).
However, done – it must be. Carey Mulligan is Lucy Skywalker, the Jedi warrior instructed by Obi Wan Kenobi (Maggie Smith). Charlize Theron will play Han Solo, the charismatic scoundrel pilot who falls in love with Prince Lyle (Jake Gyllenhaal). Meryl Streep will be Darth Vader and Joanna Lumley will be the voice of Yoda. They'll all kick about a galaxy trying to stop the Emperor and Darth Vader from creating Death Stars and using the power of the dark side to control the universe.
James Bond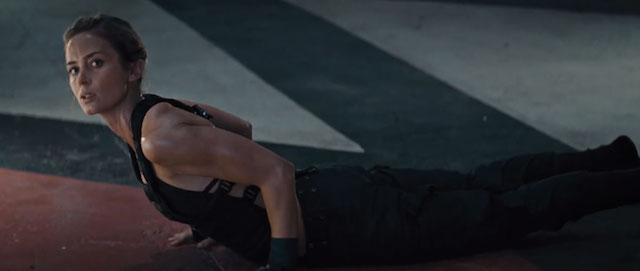 Bond, Jane, Bond. The general consensus these days among us moviescramblers is that Emily Blunt is achingly cool, talented, and has the best English accent. So Miss Blunt, we crown you the new Jane Bond. Bond is sent by M (Jamie Foxx) to investigate Marcus Freudenstein (Bond boy Tom Hardy), a double agent employed by the Chinese to auction a Heintzman Crystal Piano worth a few million pounds. The Chinese send in Prissy Sliver played by Kaya Scodelario (another double agent) to try and hike up the price. Instead she plans to steal the piano, which is actually hiding the most expensive diamond in the world. What she doesn't know is that the diamond contains a computer chip with China's plans to take over the whole of western civilisation.
Marcus joins Bond on a mission to the Tibetan mountains to find the diamond, which Prissy has successfully recovered from the piano and finds that actually, there is no such plot, the diamond is a fake and has nothing in it. It is all part of a sub-sub-plot by evil American General, Fran Fowler (Sigourney Weaver) to get Bond out of the country so that they can lose her in the Himalayas in order to steal Britain's own intelligence (which is in a computer chip, hidden in a Chippendale Harrington commode, secreted away at a stately home in Ayrshire, Scotland).
Scarface (1983)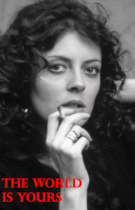 Yep, absolutely, I am going to do Scarface and, it is going to be awesome. Susan Sarandon is going to play Toni Montana, cinema's most fearless gangster. Toni arrives in Miami in the 1980s and begins flipping burgers. Her talent for creative violence has her at the top of a drug cartel in no time. The American dream all goes wrong when Toni can't get enough of everything, particularly cocaine and money, ruins all her relationships, pisses everyone off and ends up in a mansion with a pile of cocaine and a machine gun. Oh man. I really want to see this. In case you can't quite imagine it, check out this poster.
Fifty Shades of Grey (2015)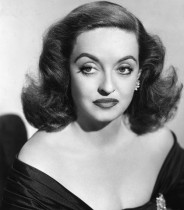 Boy-next-door preppy virgin type Andrew Steele (James Stewart) interviews billionaire sex bomb, Christina Grey (Bette Davis), falls on the way in and as soon as their eyes lock they fall in love. She pursues him because he is just so adorable and fairly quickly tries to get him to sign a disclaimer so that she can whip him as hard as she can in her dungeon in exchange for a room, a car and "her". They fall in love in between semi-erotic romps in the dungeon involving leather cuffs, feathers, ice cubes and horse riding crops. She whips him too hard and he leaves. Bette Davis relishes the role of Christina Grey, a controlling, power hungry career woman who takes perverse delight in controlling and beating naïve country boy James Stewart. She's quite possibly the only actor in history who could spit those terrible lines out and actually make them sound sinister. God it doesn't bare thinking about, I am so sorry James Stewart. If you can visualise this there's something wrong with you (ahem…).
Fight Club (1999)
An insomniac nameless office worker, (Naomi Watts) is so bored with life she spends her time at self-help groups just to feel some kind of contact with other human beings. It is here she meets Marty Winger (Johnny Depp) and shortly afterwards Tyla Durden (Cate Blanchett), a soap saleswoman who charms and repulses her in equal measure. Soap sales quickly digress to bareknuckle fighting in car parks, bizarre love triangles in a decaying house, and somehow an underground terrorist organisation, and an ending that is truly terrifying.
Indiana Jones, and the Temple of Doom (1981)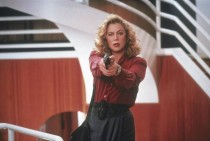 Turner reprises her role as the iconic Indiana Jones and cements her place in cinema history. Indy (is this not a girls name anyway?) Jones is a professor, archaeologist and adventurer. Somehow she ends up in India with a hapless dancer, played by Bruce Willis (clearly out of his depth in the middle of the jungle amongst snakes and creepy crawlies). Desperate villagers ask Indy to find a mystical stone which will rescue their children from a crazy witch doctor with horns on her head who sacrifices villagers in a theatrical ritual involving fire from the depths of the earth, a big stone monkey, drums, lots of skulls and all the women from the village chanting as she rips the beating hearts from men. It terrifies and tantalises in equal measure and Kathleen Turner becomes one of the best-paid actresses in Hollywood.
Harry Potter
So since nearly every British actor that has an Equity card is already in Harry Potter, all of the teachers can simply swap costumes.
However… how the hell did Judi Dench survive a full twelve years working in the film industry in Britain without making it into a Harry Potter movie? Do Judi and JK have beef? Did she not like HP (surely not), or was she miffed that all the best parts went to men and this from a female writer. Well, do not fret Dame Dench; we will fix all that for you.
Judi Dench we shall give you the coveted role of Dumbledame, the white witch and wise
 mentor to the young Hermione Potter (Emma Watson), the girl who lived – you know it makes sense. Geena Davis will play Hagrid, because she inspired this article, and she is really tall. Daniel Radcliffe can have the role of Harry Granger, the brainy besto who falls in love with Rita Weasley played by Hannah Murray (Skins and Game of Thrones). Helen Mirren will play Professor Severus, and Tilda Swinton will play Lord Vordemort. Simples. Oh, and Johnny Depp will play Bellatrix Estrange and every other role Helena Bonham Carter had in any film, of course.
We could go all day, but I understand you probably only have ten minutes and those were gone ten minutes ago. If you are still here, how about Meryl Streep as the Godfather, Michelle Williams as The Gladiator, Angelina Jolie, Natalie Portman and Charlize Theron in Goodfellas? Ok. Ok, I will stop. The point is, it is easy to think of a multitude of female actresses who could have played some awesome roles and I personally don't think the film industry would have suffered one bit. Feel free to express your horror at my choices or to comment on which female characters you would cast in iconic male roles.
References:
http://stephenfollows.com/hg4h4/Gender_Within_UK_Film_Crews-stephenfollows_com.pdf
http://www.theguardian.com/film/2014/jul/22/gender-bias-film-industry-75-percent-male
http://womenintvfilm.sdsu.edu/research.html
http://variety.com/2015/film/news/hollywood-feminism-womens-rights-sexism-1201610580/
Latest posts by
Vhairi Slaven
(see all)