For fifty years, women of all classes in the United Kingdom protested to parliament for the right for women to vote and were ignored. Repeatedly given false promises, key figures such as Emmeline and Christabel Pankhurst decided to take a more militant approach. The women used hunger strikes, chained themselves to railings, set fire to mailboxes and occasionally detonated bombs. Although property was damaged, no one was killed as a result of these actions (except a few of the Suffragettes themselves). A tragic incident and (as always) an iconic photograph printed in the press in 1913, brought the suffragettes to the attention of the world, and the male roles women were forced to take on during the First World War meant that eventually, in 1918, women won the right to vote and to be elected into Parliament. After that, many other laws that violated women's rights were abolished or changed, and Britain began its journey towards equal rights for women.
I was aware of the injustices and abuse that women suffered in our very recent history. However, I was not prepared for quite how deeply I would feel for the characters in Suffragette. Director Sarah Gavron and writer Abi Morgan bravely decided not to make a biography about Emmeline Pankhurst, but instead to tell the very believable story of an ordinary working class girl, Maud Watts (Carey Mulligan), who would have been just like so many other young girls living in poverty at that time.
Brought up to be a washwoman as soon as she is old enough to lift a hand, Maud experiences the most tragic consequences of being a young girl in the early 1900s in London with no money and no human rights. Her fantasy of the contented wife sitting in idle amusement is instantly and poetically shattered in the opening scenes of the film when Maud's daydreaming is interrupted by a rock thrown at a shop window. Maud seems resigned to struggle through life, accepting the abuse she is victim to, until she realises that this fate is something that will continue to happen to young girls just like her for generations to come if she does not fight for women's rights now. What she sacrifices as a result of her decision to speak up is as heart breaking as the events that push her to do so.
Mulligan herself is not a vision of perfection, she is visibly scarred (most likely by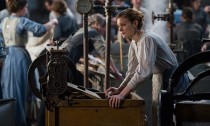 chemicals), thin and worn down by overwork and lack of care. This is working class Britain in the early 20th century, and it is not pretty. The impressively realistic set and costume design, the focus on language and accents, the complexity of the characters, and the wonderfully moving score by the brilliant Alexandre Desplat make you feel so close to Maud's character, you can almost feel the blood pumping through her veins. Carey Mulligan's performance is subtle but intense, and it is her experience of life that really draws you in to the story. Mulligan proves herself yet again to be a very talented and capable actress, not at all out of place on screen beside the likes of Meryl Streep as the infamous Emmeline Pankhurst, and Helena Bonham Carter as the intelligent and spirited Edith Ellyn.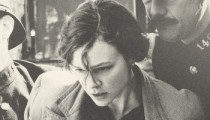 The scenes in which the women are beaten like common criminals are shocking and the force-feeding distressing. You can't help but wonder how anyone could think that it was acceptable. The treatment of the women by the police, the politicians, their employers, their neighbours and even some of their husbands is atrocious.
The few male character studies are interesting despite the short screen time they are given. Of course, laundrette owner, Mr Taylor (Geoff Bell) is despicable, yet it is the fact that his behaviour is accepted – by women as well as men – that gives him his sense of entitlement. This is something that was in fact, common at the time. Inspector Arthur Steed (Gleeson), however, is a complex man with a strong belief that the law is there to protect the innocent. Brought over from the troubles in Northern Ireland, it is clear that he truly believes he is doing the right thing by using the law to keep peace in society, until Maud and the suffragettes make him question things.
Maud's husband, Sonny (Ben Wishaw), appears to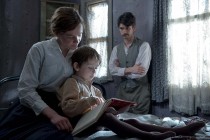 love his wife, but not to the extent that he supports her right to speak up for herself. He seems to suffer from a downtrodden working class mentality that almost paralyses him.  When he does act, it proves that men are not always the best people to make decisions and that it was wrong for the law at the time not to recognise that. Hugh Ellyn (Finbar Lynch), husband of Edith Ellyn (Helena Bonham Carter) supports his wife in her fight and is quite in awe of her intelligence, bravery and spirit, but still makes some questionable decisions about her welfare, albeit for her own safety. Hats off to the actors who agreed to take on these roles – the producers admitted that it was very difficult to find male actors who would agree to take on such small roles.
It is often questioned whether these historic events need repeatedly retold. Unfortunately, they do. Collectively, people have short memories and when society has decided that it is an insult to be called a feminist and young girls think its cool to be photographed with a statement about why "I don't need feminism," we need a reality call. These women sacrificed their personal lives, their relationships, their families, their peace of mind, their health and in the end, some of their own lives for very basic human rights, knowing that they would never see the benefit of their actions in their own lifetimes. They did it so that we would benefit now, it is unforgivable for anyone, never mind a woman to trivialise that.
This film left me with an overwhelming feeling of sadness, because I cannot deny the fact that women in the world today are still being treated like Maud Watts or that there are still institutions (like the film industry and politics) where women are not fairly represented. Until every woman in the world has equal rights, until women's views are expressed in every forum in the world that makes decisions – in society, in film, in literature, in business, in politics – women do not have equal rights and we (women and men) need to fight for those rights.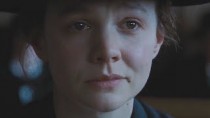 Suffragette was such a well made film that it made me feel compassion for a character in a way that has truly moved and inspired me, its not often a film does that. It is a film that everyone woman, and every man who loves a woman, must see.
Latest posts by
Vhairi Slaven
(see all)