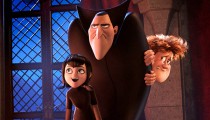 Adam Sandler has become something of a punching bag for movie critics. Although his films generally receive negative reviews there is no denying his box office appeal. In 2012 he lent his voice to animated feature Hotel Transylvania which led to predictable reviews and a healthier bank account. Returning for Hotel Transylvania 2, Sandler has also teamed up with Robert Smigel to pen the script, but will it retain any of the charm of the first one?
Previously exclusive to monsters, the hotel has opened its doors to humans with the world now accepting of the existence of supernatural creatures. Mavis (Selena Gomez) and Johnny (Andy Samberg) get married and before long they give birth to a son, Dennis. Dracula (Sandler) is a doting Grandfather however he grows concerned by the lack of vampire evident in his grandson. While Mavis makes plans to move her family out of the hotel, Drac conspires to unleash Dennis's inner monster.
While Hotel Transylvania 2 doesn't live up to its predecessor it remains a worthy sequel that provides a few laugh out loud moments. The monsters foray into the real world welcomes clichéd gags but for all its silliness, it'll easily appeal to younger audiences.
The animation is stunning and wonderfully produced. The characters look great and although the supporting cast feel underdeveloped compared to last time, they more than fill their purpose.
Sandler isn't everyone's cup of tea but as Dracula he is on form, creating a memorable and humorous figure. Credit should be given where it's due, and Sandler deserves it for his likable performance. Mel Brooks is perfect as Drac's Dad, Vlad. He's an ancient vampire with old fashioned views on humans. His appearance comes quite late in the film and despite a great turn, the character feels shoehorned into the plot.
A
s zany as the premise is there's enough deadpan humour to counter balance the cartoonish set pieces. The third act feels tacked on in an effort to prolong the running time but it does allow for an action packed finale that showcases the skills of the animators.
Adults may roll their eyes at some of the gags but Hotel Transylvania 2 focuses on kids and hits the right marks. It doesn't provoke much thought and may lack any depth however it evokes enough laughs at the right moments to remain entertaining throughout.
Latest posts by Thomas Simpson
(see all)