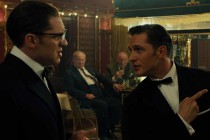 Tom Hardy is at a point in his career where it appears he can do no wrong. Far from being work shy, Hardy barely takes a breath between projects, and in Legend he's on double duty playing the notorious Kray twins. As Reggie and Ronnie, Hardy gets a chance to further show why he's one of the best actors of his generation but does the rest of the film live up to his talent?

When we first meet Reggie he is already established as a gangster. He is far from the criminal kingpin he'll become but he wields enough influence through fear to get Ronnie released from a psychiatric hospital. While Ronnie is interested in living the life of a "proper gangster", Reggie is preoccupied with courting Frances. What develops is a bizarre love triangle as Frances and Ronnie find themselves competing for Reggie's attention and affection.
If you're expecting a biopic of the Krays and how they rose to power in London's underworld, then Legend isn't for you. Instead writer/director Brian Helgeland concentrates on the relationships of the key characters which highlights both the film's strengths and weaknesses.
Hardy is astonishing in both roles, physically portraying a different character in each performance. It could easily be two different actors as he plays against himself with the help of computer wizardry and clever directing. Elsewhere, Emily Browning more than holds her own as Frances, going from wide eyed and naïve teen to troubled victim with ease. As the narrator, she is overseer of the story and as integral to the film as the Krays themselves.
As good as the performances are, they don't conceal the flaws in the filmmaking. There is a surprisingly light and glossy tone to the film that showcases the romantic drama but does nothing to highlight the gritty crime thriller that was the Krays' life. Combine this with the script's humour it makes the violence seem out of place at times. Some of the scenes are brutal but they don't appear representative to the story that's being told.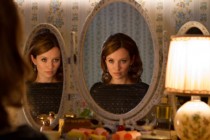 Helgeland is in danger of glamorizing the twins, especially Reggie. He does rectify this, as we near the end when Hardy blurs the lines the between both brothers, showing Reggie to perhaps be the bigger monster. With Ronnie you know where you stood, but Reggie has an alluring charm that only masks what he really is. Without these performances, Legend does nothing to elevate it from any other British gangster film.
Legend isn't a bad film, it's enjoyable if a little long, but there isn't enough to keep your attention beyond its lead actor. Despite its flaws, Hardy's dual performance is incredible and deserves to be seen but it fails to live up to the hype in every other department.
Latest posts by
Thomas Simpson
(see all)