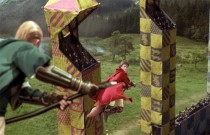 It's a new year at Hogwarts but Harry Potter may not be welcome. Dismayed that his friends haven't written to him over the holidays, Harry receives a visit from Dobby, a house-elf. Dobby warns Harry that he is in great danger if he returns to school. He knew Harry wouldn't listen so he intercepted the letters in order to alienate Harry from his friends. The elf even goes as far as to frame Harry for a practical joke so that his Uncle would lock him in his room and forbid him from leaving. Thankfully Harry has a real friend in Ron who comes to his rescues, but what's this new danger that's lurking at Hogwarts, and what evil lies within the Chamber of Secrets?

Christopher Columbus returns for what would be his last film in the series. Harry Potter and the Chamber of Secrets is still very much a a children's film however there is a subtle darkness in the director's gaze this time round. The danger feels more real and the stakes are higher.
Most of the characters from last time return with Kenneth Brannagh making his debut as Gilderoy Lockhart, a celebrity author and the new Defence Against the Dark Arts Teacher. Hugh Grant is said to have been first choice for the role however Brannagh is as brilliant as he is boastful, hamming it up at the right times to present a larger than life character.
Another new face that is introduced is Lucious Malfoy (Jason Isaacs), father of Draco and all round bad egg. Issacs delivers a cold and menacing performance, leaving no dubiety of whether that he is indeed a bad man. How bad he is is slowly teased throughout the script with Issacs never wavering in his gaze of utter contempt.
The second film in the series would also mark the last for Richard Harris who died shortly after filming. His portrayal of Dumbledore is masterful yet again as he embodies the spirit of the Harry Potter world, embodying everything it represents.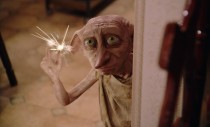 The visual effects team did a great job in bringing Dobby to life. Comparisons with Lord of the Rings Gollum were unavoidable but Dobby is a likeable character designed to appeal to audiences, not repulse them. Dobby's personality is evident in a great combination of Toby Jones' voice acting and the visual effects.
The climax is exciting with more pressure put on our hero however the film follows a similar formula to the first one. Whereas this isn't a bad thing, it all feels very familiar as you can sense the story straining to break free from its childhood roots. It's fairly contained here however it's clear as the series progresses, more will be expected from it.
Senior Editor at Moviescramble. Writer, filmmaker, friendly neighbourhood storyteller. Believes Jaws to be the greatest film ever made and will go down swinging with that belief.
Latest posts by Thomas Simpson (see all)