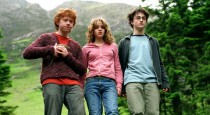 Things are a little different at Hogwarts this year. Harry's voice is starting to break, Ron and Hermione are growing up as well as closer and there's a new Dumbledore as Richard Harris's unfortunate passing gave Michael Gambon the opportunity to play the wizened wizard. The biggest change was that of director, Christopher Columbus was out, passing the reins over to Alfonso Cuaron. And as tradition would dictate there was a new defence against the Dark Arts teacher. Harry Potter and the Prisoner of Azkaban provided a fresh gaze but had the series lost any of its magic?
Life as Harry (Daniel Radcliffe) is never dull even if the excitement revolves around a threat on his life. Voldermort is noticeable by his absence but his legacy is never far away, and neither are his followers. The murderous Sirius Black (Gary Oldman) has escaped from Azkaban, a foul prison guarded by vile creatures called Dementors. Black appears to be targeting Harry but their relationship is far personal than the young wizard could ever dare dream.
At the time Curaon was seen as a peculiar choice to direct but it was a risk that paid off. Gone were the bright colours of the wizarding world, replaced with a washed out grade and darker tone. Not that the film was humourless, quite the opposite. Cuaron injects an off-beat wit to proceedings, rewarding audiences who may have been getting bored with the kiddiefest of the previous instalments. Emma Thompson's peculiar and vividly over the top Madam Trewalney captures the comedic tone of the film perfectly.
The film carefully bridges the gap between young children and young adult, careful not to ostracise the potential market for the franchise as a whole. The cast and characters are growing up, and in theory the audience too. The young stars of Radcliffe, Emma Watson and Rupert Grint are becoming more confident in their roles as they mature onscreen and off.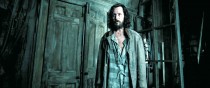 All eyes were on Michael Gambon who presents his own Dumbledore, avoiding any temptation to merely imitate Harris. This headmaster is less grandfatherly and more eccentric albeit with a subdued performance by Gambon. Oldman's screentime may be limitied but his performance is towering as the escaped prisoner as he threatens to steal any scene he's in. He faces competition from David Threwilis however who turns in a brilliant performance and helps create a memorable character in Professor Lupin.
The forumlaic outline of the first two films is tinkered with here and although the film doesn't end on a downer, there is a sadness to the third act that prevents it from being the mega super happy ending that we're used to by now. It's a sign of things to come in the Harry Potter universe, events won't be plain sailing from here. Harry Potter and the Prisoner of Azkaban is easily the best instalment at this point and helps justify why there's so much hype between audiences of all ages.
Latest posts by Thomas Simpson
(see all)