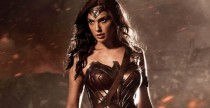 It looks like DC are finally going to give the Marvel Cinematic Universe a run for its money. The new trailer for Batman v Superman: Dawn of Justice has just dropped and it is far more impressive than I thought it would be. We are given a brief glimpse into the story and the first real look at some of the major characters in the film including a first look at Lex Luthor and Wonder Woman.
DC have a lot riding on this film as the rest of the slate of films announced this year will be built on the success of this and the Suicide Squad movie. Of course the fan boys have already been enraged with the sight of Batman holding a gun as well as a thousand other details. As always, it is a case of wait and see.
Batman v Superman: Dawn Of Justice is released on the 25th of March 2016.
Latest posts by John McArthur
(see all)