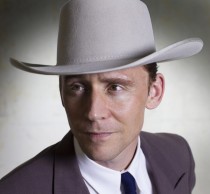 In many ways Hank Williams was the prototype rock star. He had a short and stormy life filled with a great talent and great songs which led to alcohol and drug abuse before dying at the age of 29. If you listen to I'm So Lonesome I Could Cry and are not moved then you have no soul my friend.
The new film biography does not shy away from the hard facts of Hank's life and in fact forms the basis for the drama. Tom Hiddleston stars and pulls off a convincing southern accent and very close take on Williams singing style. Support comes in the form of Elizabeth Olsen as long suffering wife Audrey Williams.
The film was garnering a lot of early awards buzz after its debut at this years Toronto Film Festival. This came to nothing when the release date was shifted back to after the cut off for consideration.
I Saw The Light is released on the 26th of March 2016
Latest posts by John McArthur
(see all)