After a decade of production the lights are set to go out at Hogwarts for the last time. Audiences have witnessed the cast grow up through film and now the journey nears its end. The decision to split the last story into two parts had its pros and cons. Harry Potter and The Deathly Hallows – Part 2 justifies that choice.
It's grim times at Hogwarts. Dumbledore (Michael Gambon) is dead, his murderer (Alan Rickman) is headmaster and the Ministry of Magic have got their claws into the curriculum. Life isn't much better outside it, Voldemort (Ralph Fiennes) has the Elder Wand in his possession and Dobby is dead. There is not rest for Harry (Daniel Radcliffe) and our young heroes though who must battle adversity to find and destroy the remaining Horcruxes. There's still the small issue of the prophecy, does Harry have to die in order to kill his nemesis?
Whereas Harry Potter and The Deathly Hallows – Part 1 lagged in places with a lot of filler injected into the script, Part 2 is a sheer spectacle of a beautifully told story. The battle of Hogwarts doesn't disappoint with director David Yates unleashing a torrent of pure visual excitement.
Steve Kloves adds so much depth to his screenplay as he perfectly adapts the source material to present a worthy conclusion to a story that's taken a decade to tell. There are many plot lines to resolve including a couple of revealing twists to complete character arcs. The drama is relentless and rewarding.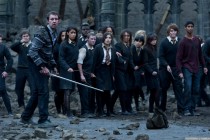 The Battle of Hogwarts promised to be a bloodbath and it doesn't disappoint. Major characters die however there isn't much focus on the aftermath as the film hurtles towards its end. It may be a reflection of war but it would've been nice as an audience to be given a moment to mourn those we've become so attached to.
The making of the last film was an emotional experience for cast and crew and it translates onto the screen. The very last scene looks weird and unconvincing but it's a small blemish on what is a brilliant outcome to the series. It's been a long journey but it's one worth taking time and time again.
Latest posts by Thomas Simpson
(see all)