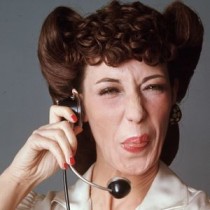 Lily Tomlin is an American actor, comedian, singer, and producer who has graced audiences worldwide with laughter and amusement for a good few decades. Tomlin began her career as a stand-up comedian, and it soon took off after she landed a permanent role in a variety show in the 1970s. Tomlin is truly a multifaceted actor and performer, and has starred in Broadway shows, television series, and films, earning her four primetime Emmys, a Tony award (including a special Lifetime Achievement Award), and a Grammy, as well as numerous other nominations for her varied work.
Tomlin's latest role is in the film Grandma, opening this Friday. Critics are already stating that this is one of the best performances of her career, and are crediting Tomlin for her role in this hilarious, but highly emotional film about the relationship between a grandmother and granddaughter during a single day. We've taken a look at some of Lily Tomlin's most memorable performances to date that highlight her talent and encapsulate her strength as an actor.
Nashville (1975)
Nashville was Lily Tomlin's dramatic debut. The 1975 musical drama follows the overlapping story lines of two dozen characters spanning several days, all leading up to their union during a political rally in Nashville. Tomlin portrays one of the main characters, Linnea Reese, a white gospel singer in the midst of recording a song with a black choir, and was nominated for Best Supporting Actress for her strong performance. The film was extremely successful, and won both an Academy Award and a Golden Globe for Best Original Song. It was nominated for Best Picture, and several members of the ensemble cast were nominated for Best Supporting Actor/Actress in addition to Tomlin.
Nine to Five (1980)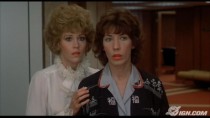 Argued by some as the greatest hit of her film career, Lily Tomlin's role in the film Nine to Five is one that shouldn't be missed. Starring alongside Jane Fonda and Dolly Parton, the three portray women working in the same office who become friends over their mutual desire to take down their "sexist, egotistical, lying hypocritical, bigot" boss. This comedy was the top-grossing film of the year upon its 1980 release, and Tomlin's outstanding performance earned her great praise and an ever-growing fan base.
Big Business (1988)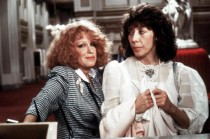 Life gets a little complicated for two sets of identical twins that were mismatched at birth. Tomlin, starring alongside Bette Midler, portray twins Sadie (Midler) and Rose (Tomlin) Shelton, and Sadie (Midler) and Rose (Tomlin) Ratliff in the 1988 film Big Business. The two sets of twin sisters born in the same hospital were accidentally mixed up, and the Shelton sisters live a wealthy urban lifestyle while the Ratliff sisters live a poor, rural, life. The film follows the lives of these mixed up sisters until their lives accidentally cross paths, and their identities are revealed in a hilarious bathroom scene. Tomlin's performance as Rose Shelton/Ratliff alongside co-star Bette Midler is a riot, and the film is a fun take on mistaken identity.
I Heart Huckabees (2004)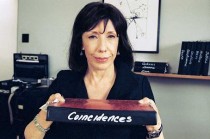 Lily Tomlin and Dustin Hoffman star as husband and wife detectives in the 2004 comedy-drama I Heart Huckabees. However, the two are not your average detectives. As existential detectives, Vivian (Tomlin) and Bernard (Hoffman) Jaffe work to help a young man named Albert (Jason Schwartzman) piece together some of life's most puzzling questions. The dynamic duo aid Albert to find the meaning of life, and sort through some coincidental occurrences in his life. This thought provoking comedy starring the hilarious Tomlin is one that will leave you questioning everything, but not without a good laugh first.
Grace and Frankie (2015)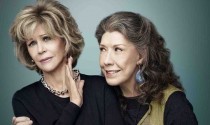 Lily Tomlin reunited with Nine to Five co-star Jane Fonda in this wildly funny Netflix series, Grace and Frankie. Frankie (Tomlin) is a hippie artist and Grace (Fonda) is a retired cosmetics company owner whose husbands Sol (Martin Sheen) and Robert (Sam Waterston) are partners in law. Both Frankie and Grace are stunned when Sol and Robert tell them they're in love and are leaving their wives.  This comedy series follow Grace and Frankie—who have never gotten along—as they are forced to live together and begin a new life. The success of Grace and Frankie was instantaneous, and the show was renewed for a second season, set to air in 2016.
Grandma (2015)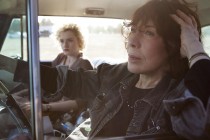 Lily Tomlin's newest film Grandma is in cinemas on Friday. Tomlin stars as Elle Reid, a feminist poet who is stuggling to cope with the death of her long-time partner. After an unexpected visit from her teenage granddaughter Sage (Julia Garner) who informs Elle that she needs money for an abortion scheduled for that afternoon, the two head out on a journey to collect the $630 Sage needs. As the two track down old friends and lovers to ask for money, audiences watch Elle and Sage's relationship grow while the pair face some major skeletons in their closets, confronting problems in both their pasts and their futures. This funny, yet surprisingly emotional film is already receiving positive mentions and oscar nomination buzz, and is sure to bring Tomlin and Garner much future success.
Latest posts by
John McArthur
(see all)