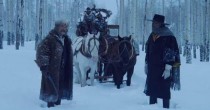 The outstanding role in the new Quentin Tarantino film is Major Marquis Warren as portrayed by long time collaborator Samuel L Jackson. Though he makes it look easy there is an awful ot of hard work in getting a performance to the screen.
The two minute featurette goes behind the scenes of the movie and features contributions from some of Jackson's co-stars as they discuss just how important he is to the success of the film.
Editor-in-Chief at Moviescramble. A Fan of all things cinematic with a love of Film Noir, Sci-Fi and Julia Roberts in Notting Hill. He hopes to grow up some day.
Latest posts by John McArthur (see all)