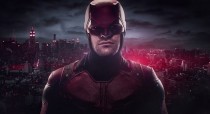 The trailer for the second season of Marvel's Daredevil has been released. Though light on detail as to how the man in red will develop, it does give a handy reminder of all the major points from the critically acclaimed first season. The religious undertones which comes from Matt Murdoch's interactions with the local priest after the death of his father and his ongoing struggle with doing what he believes to be right is the basis for the two-minute teaser.
Initially Daredevil was commissioned by Netflix as one of four series featuring heroes from the Marvel universe. It was to air prior to series featuring Jessica Jones, Luke Cage and Iron Fist before a team up mini series under the banner of The Defenders. Due to the overwhelmingly positive critical response to the first season of Daredevil, a second run has been announced which will air before the Luke Cage story.
The new run promises the return of all the central characters and the addition of several notable additions from the Marvel Universe. So far Bullseye, Elektra and The Punisher have been noted as featuring at some point.
Season two of Marvel's Daredevil will be available on Netflix from the 18th of March 2016.
Latest posts by
John McArthur
(see all)