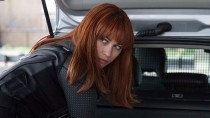 In association with Premier and Signature Entertainment we are offering the chance to win a copy of Momentum on DVD. Ultimate femme fatale Olga Kurylenko is joined by James Purefoy in the latest  action thriller from director Stephen Campanelli. After a UK cinema release in Ocotber 2015, the movie comes to home formats.
Alex (Olga Kurylenko) is a thief who thinks she is out of the game for good only to find that she is pulled back in for one last job by her former partner. When it turns out he heist was a cover to get Alex in the sights of an Assassin she must battle to uncover the reason someone has her in their sights.
To win a copy of the DVD please answer the following question.
What is the name of the Tom Cruise film that Olga Kurylenko starred in?
Please send your answer to competition@moviescramble.co.uk with subject Momentum. Please include your name and postal address. The competition will close at 12:00 pm on Monday the 18th of January 2016.
Momentum is released on DVD and Blu-Ray on the 18th of January.
Latest posts by
John McArthur
(see all)