It came as a total shock to hear of the passing of David Bowie. As a fan of his work for over thirty years he was one of the few consistently challenging artists working within popular culture. Primarily known for his musical career, Bowie had a background in mime and drama which came in very useful when he started to appear in movies in the mid-seventies. Below is a list of what I consider to be his most memorable performances on the big screen
The Man Who Fell To Earth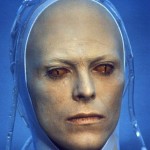 When he was cast as the Alien in Nicolas Roeg's it was seen to be a move that was designed to generate publicity and ensure a reasonable return at the box office. Bowie is perfectly suited to the role as the other worldly man who arrives on Earth in a bid to source water for his dying home world. His air of detachment and Bowie's non-standard delivery technique made this a particularly memorable performance.
The Prestige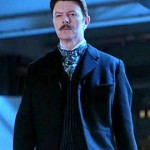 Bowie had a small but pivotal role in Christopher Nolan's magic, illusion and obsession movie, The Prestige. Playing the part of the scientific pioneer Nikola Tesla, Bowie is only on screen for a short period of time but gives a very distinctive performance. His on-screen chemistry with Andy Serkis (as Tesla's assistant) is natural and creepy at the same time.
Merry Christmas Mr Lawrence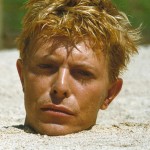 Taking the lead in the prisoner of war drama, Bowie played the part of Major Jack Celliers. The Major is the epitome of the British soldier in his attitudes and manner. He has an immediate effect on the sadistic Japanese commandant who admires these qualities in servicemen. Bowie portrays the Major as a man struggling with sanity. It is an edgy and really quite dark performance which mirrors the more measured performance from co star Tom Conti.
Labyrinth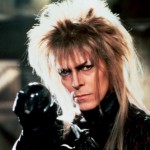 One of Bowie's best known roles was the Goblin King in Labyrinth from the Henson studios. As one of only a handful of human performers he is totally over the top as the mysterious king with a hairstyle that dates the movie as right in the middle of the Eighties. Throw in a couple of songs like the delightfully daft Magic Dance and you have a family favourite with a very dark undertone.
The Hunger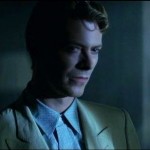 Speaking of dark undertones, The Hunger was the second Bowie film to be released within one calendar year. It is a tale of Vampires that have lived through the ages, maintaining their looks through the partaking of the blood of the innocents. Here Bowie is starring alongside the fantastic Catherine Deneuve as the brother and sister bloodsuckers. Once again the role totally suits his style of acting and his transformation into an old man is a highlight of the film.
Baal
A real personal choice this one. The BBC commissioned a one hour adaptation of the Bertolt Brecht play Baal in 1982. It was the weirdest thing I had ever seen as a fourteen year old. Bowie is almost unrecognisable in the title role as he is transformed into a man who is distinctly unwell and unkempt. He plays an alcoholic, murderous, musician and poet who is bored with his  debauched life and looks to death as a relief. It is a stark and stripped back production with songs to match.  Not the easiest of watches but certainly memorable
Latest posts by
John McArthur
(see all)