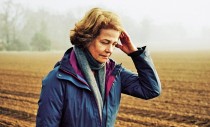 45 Years has reinvigorated the debate of what the BAFTA awards are actually for. In many best of 2015 polls, the film was highly placed and regarded, by some margin, as the best British film of the year. When the nominations for the BAFTA awards were recently announced 45 Years gained only one nomination, in the outstanding British film category. This is regarded as a snub due to the plaudits the actors received and the praise heaped on the production in general. The best film category didn't even feature one film that could be considered to be British as they were all Hollywood movies. The only positive thing to emerge from the debate is that people are talking about the film and it is being seen by a wider audience.
Geoff and Kate have been married for forty five years. This gives cause for celebration. Owing to a serious illness Geoff was unable to celebrate the forty year anniversary so a large party has been arranged to mark the occasion. A week before the festivities Jeff receives a letter from the Swiss authorities. They have located a body in the mountains and believe it to be Geoff's girlfriend from over fifty years before. Kate knew of her but as this was before the time they met, she didnot realise that just how close the couple were. Jeff was appointed as next of kin as they were pretending they were married and he admitted to Kate that he would have we'd her for real if she had not perished in an accident in the mountains. This revelation really knocks Kate off balance and forces her to reassess her life, her husband and her marriage.
This is a film where the majority of the screen time is taken up with the two magnificent leads. Charlotte Rampling is absolutely brilliant as Kate. The character she plays is a retired teacher who, on the urface, appears to be at ease with the world. Retirement has obviously not been easy for her as she is till very active. Her time is spent walking the dog, meeting friends and helping the elderly. At home, she is almost alone as Geoff is clearly not the man he once was. His illness has robbed him of a spark of life and the two do not look like a couple any more. They seem to be occupying the same space through familiarity more than anything else. It is written all over her face and it looks like she is suppressing a scream of frustration most of the time. She still loves her husband but something has gone.
Tom Courtenay as Geoff is also superb. His sense of detachment from the world comes and goes throughout the film. Sometimes he appears to be miles away and other times he is attentive and charming. We see him alone on one memorable occasion. As Kate draws up in a car to meet him he doesn't notice her and he feels like a stranger to her. He plays the part of a man who is struggling with aging in a very beievable way. His speech patterns are erratic and he loses the flow at times, stumbles, mumbles and then gets it back. He wants to do very little and his post heart complaint health is forcing him to do very little.
When Geoff gets the news of his lost love it drives a wedge between the couple and it is like a third person has entered the relationship. They live together in a house filled with books and music but not a single photograph. They never saw the need to preserve the memories as they chose not to have children. As the spectre from the past hangs over them Kate finds out some things that trouble her. A suitcase full of mementos from Geoff's previous life and an array of projection stills makes Kate question the decisions that made as a couple. Was is a joint undertaking or was it Geoff trying to bury the past.
There are a few deeply intense scenes where the couple try to communicate their feelings. It always feels awkward and the dialogue is deliberately stilted. It makes for some very uncomfortable viewing, but a very compelling experience. Silences and pauses say as much as their words spoken. Charlotte Rampling's eyes convey what is being left unsaid.
Overall, a fantastic film with a pair of superb performances.
Latest posts by
John McArthur
(see all)