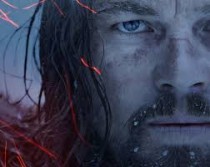 When I heard about this film, I very nearly peed my pants. DiCaprio and Hardy in the same film, both after incredible performances (DiCaprio in the Wolf of Wall Street and Hardy in any of the numerous films he has appeared in in the last two years including Mad Max, Legend and the Drop) and director Alejandro G. Inarritu with the actors and the budget that could allow him to create a masterpiece.
Inarritu has certainly shown great talent, skill and daring in his previous films: Birdman had moments of excellence and incredible humour, but in my opinion, it fell short of being a completely brilliant film by one or two nuances that I couldn't look past; 21 Grams was powerful – the performances by Sean Penn, Naomi Watts and Benicio Del Toro were very real and therefore moving; Biutiful was beautifully honest, but too bleak albeit with what I thought was a lovely ending. This honesty is what I love about Inarritu's work – only great directors such as he are able to depict the human experience with such a mixture of beauty, honesty, and cinematic aesthetics, not only capturing the story of another person's life, but allowing the audience to actually feel that experience on screen.
Semi-autobiographical, and set in Montana and South Dakota in 1823, The Revenant is inspired by the experiences of frontiersman and fur trapper Hugh Glass (Leonardo DiCaprio) who is mauled by a bear and left for dead by some of the party he was guiding through the American wilderness. Glass survives and undertakes an incredible journey back to the military base.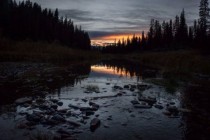 The Revenant begins how it means to go on: with stunning cinematography – nature is as much a character as any of the protagonists. Director Alejandro G. Inarritu has a fascination with minute details that human's notice by accident – what I would call the little moments: water running over tree roots, the ash of a fire mingling with drops of snow in the air. Yet, don't be fooled into thinking it's all about pretty landscapes, these scenes are cut with shots of the bloody carcasses of recently slain animals hung on trees, ready to be stripped of their fur and very soon the creaking of a wooden bow is heard and the action begins as the party are attacked by Native Americans. Not much further down the line, and the (already) iconic scene of DiCaprio fighting with a huge grizzly bear shows the audience that this film is as much about the animalistic fight for survival as it is about the beauty of the earth we inhabit – at times, it almost seems like an account of early man's experiences.
The action seems real and to take place in front of your eyes – you get the feeling like you can see everything. Inarritu and Cinematographer and partner, Emmanuel Lubezki achieve this by using long sweeping shots of seemingly never-ending landscapes; close-ups of Glass as a tiny man in an enormous world; shooting the film in natural light and weather; and meticulously planning and rehearsing scenes so that they could be shot in long takes. There is no improvisation and less of an emphasis on editing, meaning Inarritu is very much in control and in this sense, he creates a style of film that is very much like the ones that auteurs of cinematic history used to make.
Yet Inarritu never forgets that this is a movie, and he is not afraid to leave traces of that – like the actor's breathe appearing on camera – merging that shot into a shot of the clouds in the sky. In this sense, and in others, he is a courageous film-maker, he breaks the rules, but he does it in a charming way – like allowing an actor to look the camera in the eye defiantly – it is not the actor I saw in this shot, but Inarritu, saying: I know you are watching.
You will hear people say that this is a film about revenge. Although that might seem like the premise, it is not what the film is about. This is a film about man's experience of life and with the earth. You get the feeling that these men in the Frontier are still trying to figure out what it means to be civilised. They make mistakes, moral and practical, and continually underestimate both their fellow man and nature. Men are shown to tell lies when they should tell the truth, to show cowardice when they should be brave and to be selfish when they should be compassionate. Despite these moral dilemmas, our primary instinct is to survive and this is shown as one of the many things that we share with animals, as well as our relationship with the powerful force of nature and our fragility compared to it. "As long as you can still grab a breathe, you keep fighting" Glass tells his son, Hawk (newcomer Forrest Goodluck), a young mixed race boy who has already experienced tragedy and injustice.

There has been some criticism about the back story of Glass' personal relationship with the American Indians, and his spiritual imaginings or visions. I think that Inarritu is looking at the full human experience here, and you can't do that without looking at spirituality. There is no indication that any of these dreams take place outside of Glass' mind, but it is certainly a part of his experience, therefore I think it is right that it is included. There are many scenes where Glass is looking to the sky – perhaps wondering why this is all happening to him. Again this is something I like about this film – so little is said, the camera lens simply points you in the right direction.
The Revenant is certainly not for the faint hearted; there are moments that will make you want to look away from the screen. The ugliness of both human and animal flesh is left open to view, the steps Glass has to take to survive will make you squirm, but this makes it a more honest and raw exploration of what a man would have to do to survive in such an unforgiving terrain and in such conditions.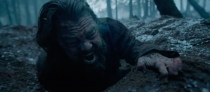 This is not a film of many words, and DiCaprio as Glass barely speaks ten lines throughout the whole film, but by God does he act. His performance is most definitely one, if not, his very best. It is no surprise that he has been nominated for an Oscar for best actor. His distinctive voice is replaced by a rasping whisper throughout most of the film, helping him to lose his presence as DiCaprio the star, and instead, disappear into the character of Glass. This is both a physically and an emotionally challenging role which DiCaprio completely immerses himself in. He is forced to communicate his experiences through means other than speech, and he does it expertly with his face, eyes and actions. He really takes the viewer on a journey with him, and we feel his struggle to fight a seemingly unrelenting battle against numerous adversities. His performance could have carried the whole film, thankfully it didn't need to.
Hardy's perfor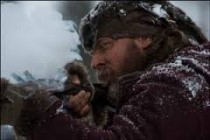 mance as John Fitzgerald is also very good, however it can be difficult to hear what he is saying with his southern, mumbling drawl. His conversations with Bridger (Will Poulter) are interesting and their relationship more complex than the usual stereotypical ones depicted between naive boy and world-weary man. Domnhall Gleeson shows again a great capability to do exactly what is required of him as Captain Andrew Henry, another character who is seen to have depth, who makes mistakes but still has a degree of integrity.
In the end, The Revenant is a film about the triumph of the human spirit, and it certainly succeeds in truly making you feel what a triumph it sometimes is for man to simply survive life. It is wonderfully cinematic, and yes, it really should be seen on the big screen. I was not really sure what I thought of the end, and left thinking I would need to watch it again. I still don't think it is the best that Inarritu can do, and I can't wait to see what he does next, but 2016 better churn out some god damned good movies to be any kind of competition for The Revenant or Leonardo DiCaprio as Hugh Glass.
Watch the trailer below – and then go to the cinema and watch this film.
Latest posts by
Vhairi Slaven
(see all)