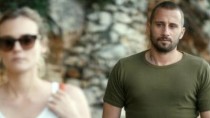 Matthias Schoenaerts and Diane Kruger star in Alice Winocour's Disorder, which receives its UK premiere at the Glasgow Film Festival on 21 February, ahead of its UK and Ireland opening on 25 March. The film was written by the director with Schoenaerts in mind and was developed by the pair over a number of years.
Following a tour of duty, Special Services soldier Vincent (Schoenaerts) takes a job in security for a wealthy Lebanese businessman and his family. During a lavish party at the family's luxurious 'Maryland' villa in the South of France, Vincent senses that something is amiss. When his employer is urgently called away on business Vincent is left to ensure the safety of his wife Jessie (Kruger) and their child. Suffering from post-traumatic stress, Vincent battles his own paranoia whilst clinging to the certainty that Jessie and her family are in real and immediate danger, unleashing a hell-bent determination to protect them at all costs.
Editor-in-Chief at Moviescramble. A Fan of all things cinematic with a love of Film Noir, Sci-Fi and Julia Roberts in Notting Hill. He hopes to grow up some day.
Latest posts by John McArthur (see all)