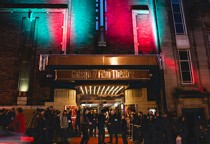 After the launch of the 2016 programme for the Glasgow Film Festival last week the box office opens for general sale on Monday the 25th of January at 09:00. The main GFF programme includes 308 screenings and events this year. Sixty of the films of this year's programme are UK premieres; three are world premieres, four are European premieres and fifty-nine are Scottish premieres. Although based out of art deco cinema Glasgow Film Theatre, the festival this year makes use of nineteen venues across the city, including iconic spaces like the Lighthouse, the Barrowland Ballroom and the Glasgow Planetarium for the first time.
The festival, in its twelfth year, is welcoming a number of very special guests, including Richard Gere, supporting the UK premiere of his new film Time Out Of Mind (Sun 28 Feb), in which he plays a homeless man, possibly suffering from mental illness, adrift in New York. Natalie Dormer, best known for Game of Thrones and The Hunger Games, walks the red carpet for the UK premiere of The Forest (Thu 25 Feb); director Ben Wheatley will also be in attendance for the Scottish premiere of High-Rise (Thu 18 Feb), the high-profile adaptation of JG Ballard's dystopian novel starring Tom Hiddleston and Sienna Miller. Veteran arthouse director Peter Greenaway and über-stuntman Vic Armstrong will also be taking part in In Person events discussing their careers.
Moviescramble will be covering a number of the films and events over the course of the twelve day festival. Stay tuned.
Latest posts by
John McArthur
(see all)