Denis Villeneuve's Sicario, coming to Blu-ray, DVD and digital platforms from February 1st is a visceral, unflinching portrayal of the war against drugs.  Critically lauded and impossible to tear your eyes away from, the film goes deep into the politics and the tensions that define a global problem but it's also by no means the first film to examine the cause and effect of getting high. What's more, as one of the best drugs thrillers out there, Sicario is also in remarkably good company…
Sicario (2015)
With films like Incendies and Prisoners, director Denis Villeneuve had already marked himself out as a director with something to say. With Sicario, he goes one further in accusing all sides of the war on drugs of being as morally grey as one another. Emily Blunt delivers a blistering turn as an initially naive FBI agent sucked into – and unceremoniously spat out of – the never-ending stand-off between 'good' and 'evil' whilst Josh Brolin proves that when it comes to the CIA, you need more than one shade of grey within that stand-off. It's the BAFTA-nominated Benicio Del Toro, though, who really shines as a gun for hire with his own unique insight into a socio-political landscape blighted by the cartels literally responsible for ruining his happiness. Essential, unnerving and almost unbearably tense stuff.
Traffic (2000)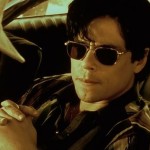 Steven Soderbergh diverted his gaze to the war on drugs back in 2000 with a convoluted, considered and riveting look at just how complicated the situation is. Traffic stars Michael Douglas, Catherine Zeta Jones, Don Cheadle and that man Del Toro (again) in a layered affair that examines everyone from the cartel members through to a prominent high court judge who realises his daughter isn't just smoking cigarettes behind the bike sheds. At the time the film was congratulated for examining the issue, and dramatically the film stands up 15 years later, but there's less moral ambiguity going on display here compared to Villeneuve's more incisive, nuanced treatise although perhaps that's simply because the world has changed so drastically since Soderbergh lensed Traffic?
Pusher (2012)
Nicholas Winding Refn produces a remake of his own film (originally a 1996 Danish thriller starring Zlatko Buric) which follows a London-based drug dealer whose life spirals out of control following the seizure of his cocaine supply and his attempts to raise the cash to repay his unforgiving supplier. Brendan Coyle delivers a career-best performance as the unlucky dealer and the spiral of violence that escalates from his early loss is hard to tear your eyes away from, even if the remake doesn't offer any surprises against Refn's own original. Also showing up for the ride are Paul Kaye and go-to tough guy/nasty piece of work Mem Ferder.
Dallas Buyer's Club (2013)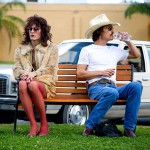 Matthew McConaughey quite literally is Ron Woodruff in Jean-Marc Vallée's Oscar-winning drama about a very different side of the drugs trade. McConaughey's breathtaking physical transformation into the stick-thin and dangerously ill Woodruff arguably took some focus away from what is nevertheless a remarkable film, but after years of fluffy rom-coms, who can blame him for wanting to get noticed? The film itself is a different flavour of drug movie with the Woodruff's 'dealer' painted as a hero who starts playing the system to supply AIDS patients with the drugs they desperately need. The anti-Pusher, if you will…
Blow (2001)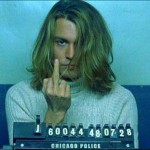 There'd be no war on drugs, of course, if there wasn't a consumer demand for the Bolivian Marching Powder and its variants. Blow examines the life and times of one George Jung, the man single-handedly credited with establishing the cocaine market in America in the 1970s and it's a fascinating insight. It's also one of the last times Johnny Depp delivered a 'straight' performance as Jung before taking a decade's worth of roles that gradually turned him into a caricature artist. Penelope Cruz provides able support as his Jung's complicit wife enjoying the spoils of the drugs trade and the cast is rounded out by Run, Lola, Run's Franka Potente and Ray Liotta, himself with a wealth of experience when it comes to playing shady characters who take a salary from South America…
Trainspotting (1996)
Until Danny Boyle's seminal Trainspotting came along (by way of Irvine Welsh's equally important novel), British depictions of drug abuse had mostly been left to Hooray Henries hoovering up the white stuff or Sherlock Holmes knocking back a bit of opium. Oh and Zammo from Grange Hill… Okay so that's not entirely true but it is fair to say most movie audiences had never seen drug addiction done like this before. With career-defining turns from Ewan McGregor, Robert Carlyle and Jonny Lee Miller, the film is at once a jet black comedy and a heart-breaking drama with characters you root for no matter what – a pleasant change from much of what went before and a zeitgeist moment that arguably changed cinema forever.
Latest posts by
John McArthur
(see all)