British actress Emily Blunt has made a name for herself in Hollywood by consistently surprising audiences with her unpredictable choices- wildly talented, she's able to make any role her own – whether it's a sharp tongued fashionista, a fiercely determined Special Forces fighter, or anything in between. To mark the release of  Sicario on Blu-ray, DVD, and digital platforms from February 1st, 2016, we're taking a look at some of her best work to date…
Sicario (2015)
Blunt stars opposite Josh Brolin and Benicio Del Toro in this searing, unflinching journey into the deadly, volatile and morally murky world of Mexican drug cartels from visionary director Denis Villeneuve. When FBI agent Kate Macer (Blunt) uncovers a Mexican cartel's house of death, her shocking find causes shockwaves on a personal and global level. Kate is recruited to join a covert black ops mission headed by a mysterious Colombian operative known only as Alejandro (Del Toro) along with shadowy agent Matt Graver (Brolin). Even as Kate tries to convince herself she's on a hunt for justice, she is thrust into the dark heart of a secret battleground that has swept up ruthless cartels, kill-crazy assassins, clandestine American spies and thousands of innocents.
Live Die Repeat: Edge of Tomorrow (2014)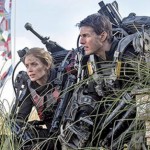 Blunt surprised her fans with an unexpected foray into action movies- a move that paid off in this thoroughly engrossing adventure also starring Tom Cruise. It follows the unrelenting war against an alien race, which seems unwinnable- until Major William Cage (Cruise), an officer who has never seen a day of combat, is unceremoniously dropped into what seems a suicide mission. He is killed within minutes- but then finds himself inexplicably thrown into a time loop, forcing him to live out the same combat over and over, with each fight culminating in his death. But with each battle, alongside Special Forces warrior Rita Vrataski (Blunt), their skills grow, and they get closer and closer to finally defeating the enemy.
Looper (2012)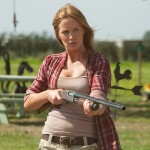 Combining sci-fi, time travel, and good old fashioned action adventure, this surprise hit features Blunt alongside Joseph Gordon-Levitt and Bruce Willis. Set in the not-too-distant future, it follows the ramifications in a world where time travel exists- but is illegal and only available on the black market. When the mob wants to get rid of someone, they send their target 30 years into the past, where a "looper" – a hired gun, like Joe (Gordon-Levitt) – is waiting to mop up. Joe is getting rich and life is good… until the mob decides to "close the loop," sending back Joe's future self (Willis) for assassination…
The Adjustment Bureau (2011)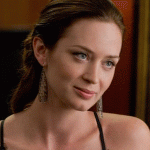 Blunt stars opposite Matt Damon in this romantic thriller with a twist.  On the brink of winning a seat in the U.S. Senate, politician David Norris (Damon) meets beautiful ballet dancer Elise (Blunt). However, just as he realises he's falling for her, mysterious men conspire to keep them apart. David learns he is up against the agents of Fate itself – the Adjustment Bureau – who will do everything in their power to stop David and Elise's blossoming relationship. Faced with overwhelming odds, they are forced to make the choice between accepting a predetermined future, or defying Fate and risking everything to be together…
The Young Victoria (2009)
Blunt shines in this brilliantly crafted, hopelessly romantic account of Queen Victoria's early years on the throne, directed by Jean-Marc Vallée. Tackling the tempestuous relationship with her mother and the constitutional crises she faced as a young monarch, Blunt is ably supported by Rupert Friend as Prince Albert, the suitor who charmed her, and eventually won her heart while helping her navigate a country in the midst of huge upheaval.
The Devil Wears Prada (2006)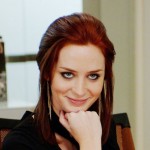 Arguably the role that really put her on the map, this brilliantly caustic comedy set in the world of a high-end fashion magazine was adapted from Lauren Weisberger's novel, widely believed to be based on her experiences working at the offices of US Vogue. Blunt stars as the bitter, hilariously sarcastic assistant Emily, and steals every scene she's in with her biting put downs and perfect comedic timing (no mean feat when her co-stars are none other than Anne Hathaway and Meryl Streep).
Latest posts by
John McArthur
(see all)