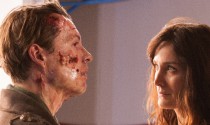 In association with Premier Comms and Signature Entertainment we are offering the chance to win a copy of Frankenstein. Set in present day Los Angeles, Frankenstein tells its tale entirely from the point of view of The Monster as he is artificially created by a husband and wife team of eccentric scientists (Danny Huston and Carrie-Anne Moss) and then left for dead. Confronted with nothing but aggression and violence as he attempts to make is way in the world, The Monster must get to grips with the horrific nature of humanity as he searches for his own.
Also starring horror stalwart Tony Todd and Maya Erskine, Frankenstein is a full-blooded and unflinching re-imagining of a timeless classic that terrifies as much as it casts a mirror over the nature of humanity and science.
To win a copy of the DVD please answer the following question.
What part did Carrie-Anne Moss play in The Matrix trilogy?
Please send your answer to competition@moviescramble.co.uk with subject Frankenstein. Please include your name and postal address. The competition will close at 12:00 pm on Monday the 22nd of February 2016.
Frankenstein is released on digital platforms from February 15th and on Blu-ray and DVD from February 22nd
Latest posts by
John McArthur
(see all)