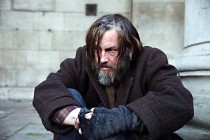 Winter is bleak. The film that is. It is an unapologetic look at the effects of loss of a family and the way that depression can take hold at any time. This may make it sound bleak and uninviting but it is a masterful study which makes for a compelling drama.
When we meet Woods (Tommy Flanagan) he is a mess. The first impression is that he is just another drunk vagrant sprawled on the street talking to himself. As he is addressed by someone he lashes out only to realise it is his son Tom (Tom Payne). Immediately his demeanor softens and he greets him with a rye smile. He has been on a drink fuelled bender for days and Tom has been searching the town for him.
Woods is suffering from depression. His wife was killed in an incident a few years previously and it basically broke Woods. He has a broken heart which makes it impossible for him to do everyday things never mind return to the promising artist he once was. He struggles with voices in his head and alcohol is the only way in which he can shut them out. In doing so, he is also shutting out his family. His son Tom is basically caring for him and his other son Max is in the care system. Things are now coming to a head as Tom is anxious about his own future having put his plans on hold for a long time and Max is starting to exhibit mental health issues as well.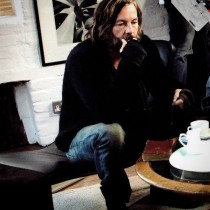 Tommy Flanagan is superb in the lead role. For so long he has provided more than able support in movies and television and he really takes his chance here as the main actor. He gives a sensitive and complex performance as Woods. He is called upon to convey the anger and frustration his character feels at all times. There are elements of guilt and remorse that inform his every action. He carries a book everywhere he goes. It was the last thing that he bought for his wife Even in his lowest moments when he is in a drunken stupor he has it.
The part is written well giving plenty for Flanagan to work with. Rather than a shallow, shouty character, Woods has depth. He is an artist so he knows struggle and passionate intensity. So when it happens in his actual life it is something he can readily relate to.
His struggle is evidenced by the life of his sons. Tom's life is on hold and he is struggling to keep it together for most of the time. His frustrations are all internalised. He needs to be the calm influence so his father knows there is somewhere safe he can return to. Tom Payne gives a very understated performance which dovetails nicely with Flanagan's turn. There is not enough room for there to be more than one large performance.
The cinematography is designed in such a way to emphasize the varying moods of the main characters. Darkness and shadow are used to great effect while Woods spirals into another period of depression. Accompanying the visuals is a subtle score interspersed with noises and voices which echo the disturbance going on in Woods mind. There is one scene where Woods is getting back to normal. He is working with a painting and in the background is playing the John Grant track T.C. and the Honeybear. It is a beautiful song and for anyone who knows Grant's own struggle with mental health issues it is particularly fitting.
Overall, a fine and insightful look at loss and sanity. Recommended.
Latest posts by
John McArthur
(see all)