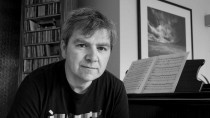 As part of the Glasgow Film Festival strand Behind the scenes, Malcolm Lindsay gave a one hour talk in the intimate surroundings of the clubroom at the CCA (Centre for Contemporary Arts). Malcolm is an award-winning composer of music for film and television. He is one of the UK's premier film and TV composers working on television projects such as Unforgiven, One Night and Palin on Art, and films including Exodus and Young Adam. Recent work has included film documentary What Our Fathers Did: A Nazi Legacy and Harry Price: Ghost Hunter.
His presentation took the form of a visual display from which he discussed the various aspects of producing new music for cinema and television. He is a self taught musician who learned his trade working in various bands before branching out on his own and working with graphic artists in still and then video projects. From there it was a natural progression to start working with feature length films and documentaries.
He is a minimalist composer who uses sounds to enhance the visuals presented on screen. He is strongly of the opinion that the soundtrack should almost be invisible as it should blend with the visuals to create an overall effect. During his initial discussion he described how music is used to evoke emotion, enhance the mood of a piece and most interestingly how it can serve to 'glue' seemingly unrelated aspects of the film. To back up the discussion's main points on mood and emotion, several clips from his work were shown. In isolation, they were powerful examples of his work.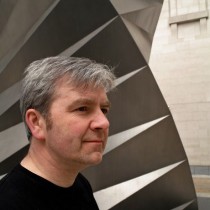 Malcolm then went on to describe the types of directors he works with. The soundtrack is a collaboration between composer and director. Usually the director issues the instructions and demands which the composer is obliged to interpret quickly and accurately. Examples (without names, of course) were given to describe the variations. Some directors are full on and are involved with every second of the production whereas others issue a requirement and allow the composer to press ahead with it. The third type is positioned in the middle. All have their challenges and Malcolm, to his credit, didn't hint at his least favourite type.
One of the clips shown was then described as having no 'real' instruments in it was all sampled sounds which were adapted to suit the requirements. To break this down we were treated to a piece that he worked on just that day. An initial recording of his kettle was played in its raw form. Next, the sound was replayed after a bit of work involving pitching and speed shifting. Then a third time with some strings over the top. It was an excellent demonstration of how he works and the genuine skill it takes to achieve an impressive output.
His presentation style was easy going. He is very light hearted in his delivery and is very engaging. He was at ease throughout and the hour passed far too quickly. I could have listened to him talk about the fascinating subject for much longer.
For more information on his extensive work including his classical work please go to http://www.malcolmlindsay.com/
Latest posts by
John McArthur
(see all)