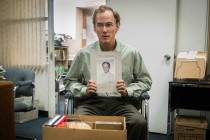 Tom McCarthy has some impressive credits to his name. As well as bringing us The Station Agent and working on Game of Thrones, he also contributed to Pixar's Up having been one of the story writers. His resume is varied to say the least and with Spotlight he directs a film that will challenge and shock audiences, mostly because it's all true.

When The Boston Globe hires a new editor in Marty Bryon (Liev Schreiber) a particular column comes to his attention regarding child abuse and the Catholic Church. Byron is bemused as to why the story wasn't given more attention and tasks the Spotlight team, a small group of investigative journalists, to dig deeper. As the story unravels the journalists realise that the thread they've pulled on is not without its consequences.
Spotlight is a slow burning drama that highlights the importance of investigative journalism. The plot gradually unfolds to reveal deeper layers of a wider conspiracy which gets more disturbing with each revelation. There is nothing visually gratuitous not that it makes the information any easier to digest as the horrors are retold.
The film is all tell and little show. It doesn't drag however the nature of the execution means that even though the story being told is of vital importance, the dialogue in which its expressed gets a little dull. This is a newsroom drama which stays true to it's style, but it lacks the engaging thrills of  its spiritual predecessor All the President's Men.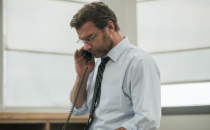 The performances are solid yet none of the cast really get a chance to shine. Michael Keaton and Rachel McAdams are as reliable as always but its Mark Ruffalo that stands out, just not for all the right reasons. His depiction of Michael Rezendes is awkward and at times distracting. By contrast, Schreiber is understated in his portrayal, turning in a brilliant performance in the process.
Spotlight isn't an easy watch and although I found it underwhelming as a film, I'd watch it again. The amount of detail McCarthy injects into each scene means the viewer would likely benefit from repeated viewing. On first watch it didn't keep me enthralled despite the fascinating and abhorrent subject matter.
Latest posts by Thomas Simpson
(see all)