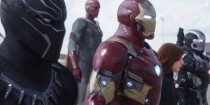 It is a constant wonder that Marvel continues to raise the bar in terms of its movie output. Judging by the new trailer for  the so called superhero fatigue is some way off yet.
The new trailer gives a bit of a longer look at the story line of the forthcoming film and has some tantalising glimpses of the new characters being introduced to the Marvel Cinematic Universe.
The Captain America movies so far have been consistently good and the shift between the war adventure of the first and the cold war thriller of the second was a real surprise. Just what the third installment will bring is anyone's guess.
Captain America: Civil War is released on the 29th of April.
Latest posts by
John McArthur
(see all)