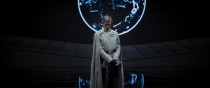 Just released is the teaser trailer for the first of the Star Wars story films. To date there has been very little information divulged other than the basic story outline and the major cast and crew announcements.
The trailer is a superb piece of work. It gives a brief introduction to the main players in a story of a band of misfits brought together to carry out a very special heist. The job just happens to be stealing the plans to the first Death Star which is being built by the empire.
Felicity Jones stars as Jyn Erso, a wise cracking all action maverick who is tasked with leading the band of misfits. She is supported by an impressive cast including Forest Whitaker, Donnie Yen, Mads Mikkelsen and a very evil-looking Ben Mendelsohn. The film is directed by Gareth Edwards best known for the recent Godzilla remake.
If that wasn't enough then we see the return of the AT-AT walkers, Mon Mothma and some serious rumours that a certain sith lord will make an appearance at some point in the film.
Rogue One: A Star Wars Story is released on the 16th of December.
Latest posts by John McArthur
(see all)