Emily Blunt's astonishing turn in Sicario is just one of the many incredible female lead roles that have helped make the last year a record-breaking one at the box office. With the conversation around the gender gap in Hollywood only becoming more and more urgent, the evidence is rapidly stacking up that female leads sell films. It's impossible to ignore the fact that a huge majority of the past year's biggest hits have been female-driven – and to celebrate the release of Sicario, we're taking a look at some brilliant, female-driven features which recently smashed the box office…
SICARIO
Despite originally being pressured to change the gender of the lead role to a male, the Sicario filmmakers dug their heels in… And thank goodness they did. Emily Blunt's performance as an FBI agent forced to navigate a deadly drug cartel won her rave reviews and showcased a completely different side to her abilities- as well as managing brilliant box office takings despite a relatively limited initial release. Her extraordinary lead turn was ably supported by Josh Brolin and Benicio Del Toro in the searing, unflinching journey into the morally murky world of Mexican drug cartels from visionary director Denis Villeneuve.
MAD MAX: FURY ROAD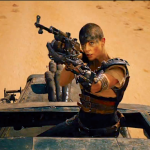 Starring Charlize Theron as the terrifying, brilliant, brutal Furiosa, the release of George Miller's Mad Max reboot ruffled plenty of feathers on its release – with plenty of online spats occurring between feminist bloggers and "men's rights" activists.  One thing was clear though- calls to boycott the film due to its female protagonist fell on deaf ears, as the film picked up hugely positive reviews and dominated the UK box office- only losing out on the top spot due to the release of yet another female-driven feature- Pitch Perfect 2…
PITCH PERFECT 2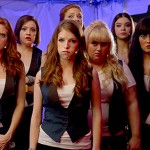 The original Pitch Perfect was a surprise hit on release in 2012, showcasing the unexpectedly universal appeal of acapella groups. The classic tale of the underdog given a decidedly wayward modern twist, the smash hit musical comedy stars Rebel Wilson and Anna Kendrick as members of college acapella group, the Barden Bellas. In the sequel, the Bellas are back, fresh from their victory at the national competition- but after being humiliated in front of the President of the United States the Bellas are expelled from the Aca-Circuit. Determined to clear their name and regain their status, the Bellas take on a seemingly impossible task: winning an International competition no American team has ever won.
THE HUNGER GAMES SERIES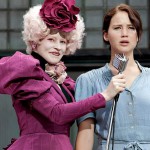 This hit franchise based on Suzanne Collin's bestselling YA novels was Jennifer Lawrence's original ticket to the A-list, as she took on the mammoth task of portraying protagonist Katniss Everdeen, alongside Liam Hemsworth and Josh Hutcherson. Taking place in a horrific dystopian universe, Katniss is tasked with stirring up the rebellion against the evil and all-powerful Capitol – and as the box office for the final instalment Mockingjay Part 2 showed, there really was no match for Miss Everdeen – she even managed to topple James Bond himself off the top of the UK box office.
TRAINWRECK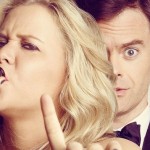 Amy Schumer's self-penned and utterly hysterical comedy absolutely smashed its budget on release, beating initial projections by a mile and providing a welcome respite from the sugary-sweet romcoms that preceded it. Directed by Judd Apatow, it stars Schumer as a magazine writer and commitment-phobe, who finally meets her match in charming doctor, Aaron, played by Bill Hader.
STAR WARS: THE FORCE AWAKENS
No introduction necessary – the long-awaited reboot , helmed by the ever-secretive JJ Abrams smashed all the UK box office on release- its three-day weekend gross of £24.33m set a new record at UK and Ireland cinemas, edging out the £23.75m achieved by Harry Potter and the Deathly Hallows – Part 2 in July 2011.  And along with the return of original cast members Carrie Fisher, Harrison Ford and Mark Hamill, it also introduced legions of fans to a new young Padawan to champion – the irrepressible Rey, played by Daisy Ridley.
Editor-in-Chief at Moviescramble. A Fan of all things cinematic with a love of Film Noir, Sci-Fi and Julia Roberts in Notting Hill. He hopes to grow up some day.
Latest posts by John McArthur (see all)