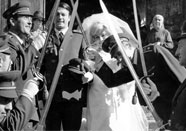 The unsung heroine of the 1960s Czech New Wave, filmmaker Drahomíra Vihanová is celebrated next month at Barbican cinemas with a rare screening of her debut fictional feature A Squandered Sunday, a Skype Screen Talk with the director herself plus an additional screening of some of her short documentaries.
As one of the few women filmmakers in Eastern Europe in the 1960s and '70s, Drahomíra Vihanová studied at the legendary FAMU (Film and TV School of The Academy of Performing Arts) in Prague, which became a focus for dissent against the Communist regime. Principled and unwilling to compromise, her first feature film A Squandered Sunday (1969) was banned by the authorities, and she was only able to return to filmmaking in the late '70s and then only permitted to make documentaries. As a result, her films have never been seen before in the UK.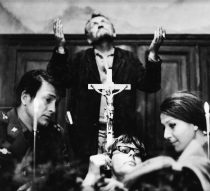 Vihanová was a prominent member of the Czechoslovak New Wave, alongside Milos Forman, Ivan Passer, and Jiří Menzel, but unlike some of her contemporaries, she remained in her country after the Prague Spring in 1968, only to have her work heavily censored. A Squandered Sunday, her first feature, is an existential, absurdist and beautifully shot satire about a lethargic army officer exploring his fantasies one Sunday morning. This screening takes place on the 2nd of June at 18:30 and will be followed followed by a Screen Talk with Drahomíra Vihanová, live from Prague via Skype.
As one of the few women filmmakers in Eastern Europe in the 1960s and '70s, Vihanová's work frequently explored Czech society from the perspective of the outsider.  Her documentary Metamorphosis of my Friend Eva is a controversial portrait of the jazz singer Eva Olmerová and her struggle with alcohol. Questions for Two Women (1985) gives voice to a rural female railway worker who writes poetry and a molecular chemist working in the city. Everyday I Step in Front of Your Face charts the daily routines of a 90-year old man who lives along in the Orlicke mountains. Frequently exploring the world of outsiders, her first film, Fugue on the Black Keys (1965) follows an African classical music student in Prague and explores issues of loneliness and isolation at a time when there were few non-white students in the country. The shorts will be screened on the 4th of June at 14:00.
More details are available at barbican.org.uk/film
Latest posts by John McArthur
(see all)