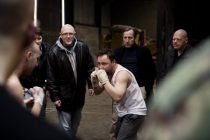 In association with Soda Pictures we are offering the chance to win a copy of the new film Orthodox. When Benjamin, a young orthodox Jewish boy (played as an adult by Stephen Graham), takes up boxing for self-defence after years of bullying over his faith, he begins to become alienated from his devoutly religious community – and lands himself in prison. Upon his release years later, Benjamin is desperate to start afresh and provide for the ones he loves. However, it isn't long before his previous involvement with a tangled web of criminal activity catches up with him and threatens to destroy his new way of life. Also starring Michael Smiley and executive-produced by the BAFTA nominated Graham, Orthodox is a gritty story of redemption and human survival, where fighting for freedom comes at a painfully high cost.
To win a copy of the DVD please answer the following question.
What part did Stephen Graham play in Boardwalk Empire?
Please send your answer to competition@moviescramble.co.uk with subject Orthodox. Please include your name and postal address. The competition will close at 12:00 pm on Monday the 23rd of May 2016. Moviescramble will not pass on your details to anyone else.
Orthodox is available on DVD from May 16th.
Editor-in-Chief at Moviescramble. A Fan of all things cinematic with a love of Film Noir, Sci-Fi and Julia Roberts in Notting Hill. He hopes to grow up some day.
Latest posts by John McArthur (see all)