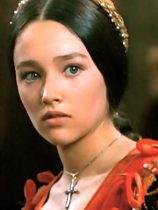 Paramount Pictures' Romeo and Juliet, first released in 1968 will return to UK cinemas from 20 May – opening at BFI Southbank, screening from a new 4K restoration and reissued as part of Shakespeare Lives; a worldwide programme of events celebrating the work of the Bard 400 years after his death, led by the British Council. This British-Italian co-production will be a key title in the British Council's most ambitious ever international touring programme, in association with the British Film Institute, Park Circus and Film London. The 4K restoration is a partnership between Paramount Pictures and Park Circus, made possible with funding from the British Council and the British Film Institute Unlocking Film Heritage programme.
Faithful in style and substance to its source text, and notable for its use of young actors in the lead roles, Franco Zeffirelli's Academy Award-winning Romeo and Juliet stands as one of the classic big screen Shakespeare adaptations. Emphasising both the naivety of its protagonists and the senselessness of the violence that surrounds them, Romeo and Juliet effectively grasps the play's essential tragedy of irrational love undone in the face of insensitive circumstance. The film is also notable for its score by Nino Rota who went on to compose the music for The Godfather.
Verona is blighted by the long-standing feud between two of its powerful families, the Montagues and the Capulets; sworn enemies whose violent clashes disrupt the life of the city. Romeo and Juliet – heirs to the rival houses – meet at a masque held by the Capulets and, initially unaware of each other's identities, quickly fall in love. Contriving to marry in secret, the young lovers recruit the help of Juliet's nursemaid and a local friar who believes that the union may reconcile their families. But these plans are soon thrown into chaos when Romeo is banished from Verona for the revenge-killing of a Capulet and Juliet's parents announce an arranged marriage for their daughter. Hoping to console a desperate Juliet and return Romeo from exile, Friar Laurence concocts an elaborate plan to reverse the fortunes of the star-crossed pair.
Released in a new 4K restoration, Paramount Pictures' Romeo and Juliet will return to cinemas across the UK from 20 May, opening at BFI Southbank and selected sites nationwide.
Editor-in-Chief at Moviescramble. A Fan of all things cinematic with a love of Film Noir, Sci-Fi and Julia Roberts in Notting Hill. He hopes to grow up some day.
Latest posts by John McArthur (see all)