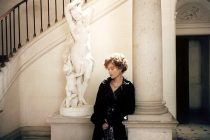 Widely considered one of the most gifted actresses of her generation, Isabelle Huppert boasts an internationally successful stage and screen career that has seen her scoop the Best Actress award at Cannes not once but twice. Barbican Cinemas are delighted to host a screening of one of her finest performances, Gabrielle, and to welcome Huppert to the stage following the screening to discuss her work with journalist Jonathan Romney.
Gabrielle is a riveting tale, adapted from a short story by Joseph Conrad and directed by Patrice Chéreau, that offers a masterclass in screen acting from Isabelle Huppert. It's the early 1900s and from the outside, Gabrielle Hervey has it all: she's beautiful, held in high-esteem by society and is married to a wealthy and devoted husband, Jean (Pascal Greggory). Yet, Gabrielle is treated as if she were a possession by Jean; she leaves him for her lover… only to return. What follows is an intimate conversation on their marriage, exquisitely portrayed.
You can find more information at barbican.org.uk/film. Gabrielle will screen at The Barbican cinema on 12th June 2016.
Latest posts by
John McArthur
(see all)