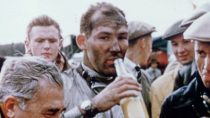 The BFI today announces Rural Life, the release online of over 750 films from 1900 to 1999, many unseen since they were first shown. The films form part of the BFI's Britain on Film project, that reveals hidden histories and forgotten stories of people and places from every corner of Great Britain from the UK's key film and TV archives, available for free on BFI Player via an interactive map.
The archive films will also be visiting over 125 locations around the country for special screenings and events. Rural Life charts the changing countryside and rural life, highlighting activities, pursuits and traditions still surviving today, as well as customs, trades and skills that have since dwindled or disappeared. Viewers can enjoy a whistle-stop tour of Scotland's lochs and mountains in 1924, learn about 'Hot Coppers', the 150-year-old-custom – now extinct – once practised in the ancient town of Beaumaris (1929), explore Northern Irish countryside – tranquil and beautiful even as the Troubles rage elsewhere – and see a youthful Gloria Hunniford performing in 1986, there is also a rare glimpse from 1946 of the now globally threatened bird, the mistle thrush.
Robin Baker, Head Curator, BFI National Archive said, "These films offer an unrivalled record of our rural heritage in all its richness across the 20th century. It's an immersive experience to watch them, and often deeply moving. People who live and work in the countryside will be fascinated to see how their forbears used to live. Like many other city dwellers, I was born and bred in the countryside, and this collection of films offers all of us an extraordinary and very real social history of the British countryside. It's a very potent portrait of an often neglected cornerstone of our national life."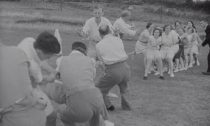 The films in Rural Life date from 1900 to 1999 and are drawn from the collections of the BFI National Archive and the UK's Regional and National Film Archives, with content spanning the whole of the UK. Anyone can explore Britain's rural past through the Britain on Film map, which reveals films shot in almost every county. Since Britain on Film's launch, over 6 million people have accessed their country's film heritage through BFI Player and social media channels. With this new collection, there are now over 5,000 films to see online – 97% of which are free. By 2017, thanks to National Lottery funding and the support of the Esmée Fairbairn Foundation, 10,000 film and TV titles from 1895 to the present day will be newly digitised and available to view.
Rural Life presents an illuminating and moving record of Britain's changing countryside and its people, highlighting staple traditions like village pageants, farm shows and harvest festivals, Morris Dancers and Queens of the May. Rural Life also sheds light on local peculiarities such as Somerset's Punky Night lantern procession, Bacup's coconut dance or Ardboe's Wishing Tree. There are fairs, fêtes and festivals as well as countless other seasonal celebrations, while that great British institution, the village pub, features throughout. The gorgeous heritage of rural pursuits is captured in films about sporting events. Hunting (and hunt saboteurs) and horseracing feature alongside newer additions like motocross. Idyllic country holidays are captured in evocative amateur films, while travelogues offer enticing sights to lure more hikers and ramblers.
There are also films exploring the varied history of farming and agricultural techniques, from sowing to harvesting. These are films which give a rich historical insight into the way we lived outside of big towns and cities, with landscapes and people who could have walked off the pages of Thomas Hardy, Walter Scott, John Betjeman or Catherine Cookson.
The Britain on Film collections are accessible through the BFI Player. http://player.bfi.org.uk/britain-on-film
Latest posts by
John McArthur
(see all)