This was the surprise film at this year's Glasgow Film Festival. I am not a great fan of Jane Austen or the many TV and movie adaptations of her work so I was initially disappointed, as was a good many in the audience,  that I was going to sit through ninety minutes of a genre that I actively avoid. I am pleased to say that I was wrong in my assumption and the film was much better than I thought it would be.
Set in Regency period England the story is built around the character of Lady Susan Vernon (Kate Beckinsale). She is an upper class lady who has fallen on hard times after the death of her husband. With no money to her name and a daughter that is still unwed, she spends her time visiting her in-laws at their country estate in order to live off their good graces, avoid paying her mounting debts and distance herself from a scandalous affair in the city. With only her American friend Alicia( Chloe Sevigny) to confide in and gossip with, Lady Susan concocts a plan to marry her daughter Frederica(Morfydd Clark) off to a buffoon of a local landowner while she has designs on the son of her sister-in-law and the family's fortunes.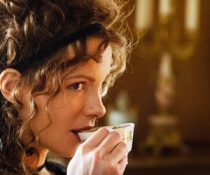 What surprised me the most was the subtle humour that flowed throughout the film. It never felt right in your face and it drew you into the story very quickly. The fact that the characters were all well rounded and their motivations were clear, helped as well. This was in part down to the superb cast.
Kate Bekinsale is the stand out performance here. She is in her element here as the conniving Lady Susan. She dominates the screen and really works well against the other actors. Her main foil is Chloe Sevigny as her long time confident. Their interactions are sharp, biting and witty. The times when they appear on screen together are the highlights of the film.
The supporting cast really adds to the proceedings. Tom Bennett is just superb as the bumbling landowner. The character tends to be in his own world and voices the most absurd lines t times which are always very funny. The fact that he is played totally straight by Bennett only adds to the enjoyment of the performance.
The basis for the successfull performances and the film is in part down to the screenplay and the direction from Whit Stillman. He catches the essence of what we know of Austen's way with language and crafts it something sharp and witty. When this is added to the period visuals it forms a very satisfying whole. This was a film that stuck with me for that reason. It was more than I expected and I was still thinking about the characters for several days afterwards.
Overall, a film that surprised me with its wit and style.
Latest posts by
John McArthur
(see all)