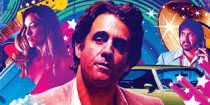 Vinyl, created by Mick Jagger, Martin Scorsese, acclaimed author Rich Cohen and Terence Winter, arrives on Blu-ray and DVD on June 6th, 2016. The hit drama series explores the drug- and sex-fueled music business of the 1970s New York at the dawn of punk, disco and hip-hop.
Richie Finestra (Bobby Cannavale), the founder and president of American Century Records, is trying to save his company and soul without destroying everyone in his path. With his passion for music and discovering talent gone by the wayside, and American Century on the precipice of being sold, he has a life-altering event that reignites his love of music, but severely damages his personal life. The drama features an all-star cast including Olivia Wilde and Ray Romano.
Editor-in-Chief at Moviescramble. A Fan of all things cinematic with a love of Film Noir, Sci-Fi and Julia Roberts in Notting Hill. He hopes to grow up some day.
Latest posts by John McArthur (see all)