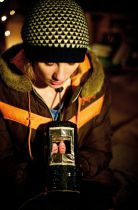 In the short film Emotional Fusebox, Anna (Jodie Whittaker) lives a hermit's life in her Mum's garden shed. Happy and contented in her surroundings,she wants to stay there making videos with her thumbs but her Mum has other plans. The short features Lorraine Ashbourne, Marcia Warren, Rachael Deering and Edward Hogg. Commissioned by Creative England and the BFI, and official selection at the London Film Festival, the BAFTA/BIFA nominated short film written and directed by Rachel Tunnard served as a pilot for Adult Life Skills,  Rachel's debut feature.
Adult Life Skills will receive its UK and European premiere at the 70th Edinburgh International Film Festival after being officially selected for the "Best of British" strand, ahead of its nationwide release. The EIFF premiere follows hot on the heels of the film's world premiere at TriBeCa, where writer/director Rachel Tunnard received the Nora Ephron Prize which is awarded to a woman writer or director with a distinctive voice who embodies the spirit and vision of the legendary filmmaker and writer.
The Adult Life Skills UK and European premiere will take place on 18 June, as part of the EIFF programme of World, European and UK premieres and will be followed by a UK wide release on the 24th of June.
You can view the Emotional Fusebox short below.
Latest posts by
John McArthur
(see all)