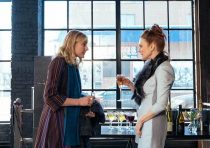 In Rebecca Miller's witty, modern romantic comedy Maggie's Plan, Greta Gerwig portrays Maggie Hardin, a vibrant and practical thirty-something New Yorker working at the New School who, without success in finding love, who decides now is the time to have a child on her own. But when she meets John Harding (Ethan Hawke) a "ficto-critical anthropologist" and struggling novelist, Maggie falls in love for the first time, and adjusts her plans for motherhood. Complicating matters, John is in a strained marriage with a brilliant Danish academic, Georgette Nørgaard (Julianne Moore). With a Greek chorus of Maggie's eccentric and hilarious best friends Tony and Felicia (Bill Hader and Maya Rudolph) observing wryly from the sidelines, Maggie sets into motion a new plan that catapults her into a nervy love triangle with John and Georgette; intertwining their lives and connecting them in surprising and the humorous new ways. Maggie learns that sometimes destiny should be left to its own devices.
The film stars Greta Gerwig, Ethan Hawke and  Julianne Moore. The support cast includes Bill Hader , Maya Rudolph, Travis Fimmel, Ida Rohatyn, Wallace Shawn and, Mina Sundwell. The film screened at last year's Sundance Film Festival and Berlin International Film Festival as well as in Toronto International Film Festival and New York Film Festival in 2015.
Maggie's Plan opens in cinemas on the 8th of July.
Latest posts by
John McArthur
(see all)