Love triangles are the stuff of Hollywood legend, with many a classic film basing its premise on the agonising choice between two very different lovers. Brooklyn perfectly portrays the dilemma of choosing between two futures, with standout performances from the three young leads (Saoirse Ronan, Emory Cohen and Domhnall Gleeson) – so, in that spirit, we're taking a look at some of the other greatest love triangles on film…
Brooklyn (2015)
Based on the award-winning novel by Colm Tôibín and transformed into a BAFTA and Academy Award® nominated screenplay by Nick Hornby, Brooklyn stars Saoirse Ronan as Eilis, a young woman who moves from small town Ireland to Brooklyn, where she has the opportunity for work, for a future – and love, in the form of Italian-American, Tony (Emory Cohen). When a family tragedy forces her to return to Ireland, she finds herself drawn back into the life she left behind- including the possibility of a budding romance with local bachelor, Jim Farrell (Domhnall Gleeson). As a secret threatens to reveal itself, Eilis has to confront a terrible dilemma – a heart-breaking choice between two men and two countries.
The Hunger Games series (2012-2015)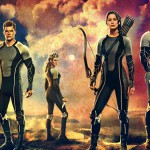 This hit franchise based on Suzanne Collin's bestselling YA novels stars Jennifer Lawrence as protagonist Katniss Everdeen, alongside Liam Hemsworth and Josh Hutcherson. Hemsworth plays Gale, Katniss' childhood friend, while Hutcherson takes the role of Peeta Mellark, her fellow competitor in the Games. Throughout the competition and the subsequent rebellion, Peeta and Gale vie for her affections. Hemsworth is arguably the more brooding individual, plagued with insecurities as he struggles to reconcile his feelings for Katniss with his doubts that Katniss and Peeta's 'fake relationship' for the cameras really is fake- but Hutcherson must be commended for his sensitive portrayal of the traumatised, selfless Peeta, determined to do anything for the woman he loves.
Bridget Jones's Diary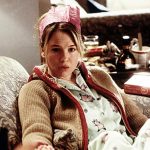 The adaptation of Helen Fielding's bestseller stars Renee Zellweger as everyone's favourite singleton, along with Colin Firth and Hugh Grant as her two very different suitors. A reinterpretation of Pride and Prejudice, bad boy Daniel Cleaver (Grant) and her 'true love' Mark Darcy (Firth), fight it out for the charming, ever-so-slightly disaster prone Bridget- which leads to numerous awkward encounters (and one particularly memorable fistfight).
Titanic (1997)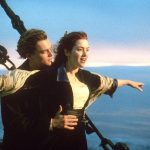 Catapulting Kate Winslet and Leonardo DiCaprio to the A-list, this James Cameron directed epic romantic drama focuses on the ill-fated love affair between young aristocrat Rose DeWitt Bukater (Winslet) and penniless artist Jack Dawson (DiCaprio), as they both embark on RMS Titanic's maiden voyage. Billy Zane takes the role of Cal Hockley- Rose's spoilt, violent and sadistic fiancé, who immediately notes the attraction between his fiancé and Jack, and goes to extraordinarily vindictive lengths to keep them apart.
The Age of Innocence (1993)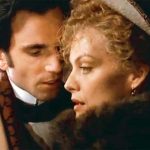 Michelle Pfeiffer turns in a wonderfully understated performance as the disgraced Countess Ellen Olenska, in Martin Scorsese's adaptation of Edith Wharton's tale of 19th century New York high society. Daniel Day-Lewis plays the young lawyer Newland Archer, who falls in love with the Countess- the only issue being that he's already engaged to her cousin May Welland (Winona Ryder); and when their affair is finally exposed, it brings into stark relief the hypocrisy of the New York upper classes.
The Graduate (1967)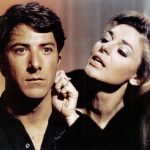 Mike Nichols comedy-drama is often lauded as one of the greatest films of all time, and features a wickedly seductive performance from Anne Bancroft as the iconic Mrs Robinson. Dustin Hoffman's turn as Benjamin Braddock is equally brilliant as the smart, discontented graduate who finds himself embroiled in an affair with his father's business partner's wife – and ultimately having to decide between her and her daughter, Elaine (Katharine Ross).
And just because we love the Wayne's World 2 homage to The Graduate we have included the great Gordon Street clip.
Latest posts by
John McArthur
(see all)