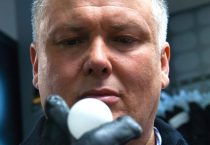 In the thriller A Patch Of Fog, Sandy (Conleth Hill) is a celebrated novelist and TV personality who finds his reputation on the line when he is caught shoplifting by a lonely security guard Robert (Stephen Graham).  Robert lets Sandy go on the condition that they share a drink after work, but one drink quickly turns into a string of rendezvous as Robert reveals just how desperately lonely he is – and how determined to fashion Sandy into the best friend he never had. He audits Sandy's class, worms his way into Sandy's social calendar, and finds ways to get close to Sandy's girlfriend, Lucy (Lara Pulver). Every time the beleaguered professor is certain he's shaken off his blackmailer, he is reminded that, in a world where much of what we do is captured on camera, it's hard to avoid leaving a trail.
A Patch Of Fog is a blackly comic modern day morality tale featuring magnetic performances from its two leads, Stephen Graham from HBO's award-winning "Boardwalk Empire" and Conleth Hill who plays Lord Varys in the critically acclaimed, fan-favorite television series "Game of Thrones."Following his 2015 BAFTA Award-winning and Oscar nominated short film "Boogaloo and Graham" which world premiered at the Toronto International Film Festival, A Patch Of Fog marks Michael Lennox's auspicious feature film directorial debut. Gary Lightbody and Johnny McDaid from Snow Patrol contributed original music to the compelling score for this tense twisted psychological thriller.
A Patch Of Fog will screen at the Edinburgh International Film festival on the 22nd of June. The film will be released  theatrically through Alarm Pictures and Icon Film Distribution on the 8th of July and VOD on the 11th of July.
Editor-in-Chief at Moviescramble. A Fan of all things cinematic with a love of Film Noir, Sci-Fi and Julia Roberts in Notting Hill. He hopes to grow up some day.
Latest posts by John McArthur (see all)