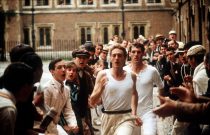 To celebrate the 35th anniversary of the film's release, Barbican Film will host a screening of 's inspirational Olympic epic Chariots of Fire followed by a ScreenTalk with producer Lord David Puttnam and Andy Beckett, author of Promised You A Miracle: Why 1980-82 Made Modern Britain on Wednesday 6 July. Critically lauded upon its release in 1981, it won numerous international awards, sealing its reputation as a cinematic classic and that of Vangelis, who composed its iconic modernist score.
It's 1919 and Harold Abrahams (Ben Cross), a Jewish student from Cambridge and Eric Liddell (Ian Charleson), a devout Christian, are both talented runners. Set against the backdrop of the class and religiously divided post-WWI Britain, the determined athletes face prejudice and social barriers as they race towards the 1924 Paris Olympics. Sweeping the board at the 1982 Oscar ceremony, Chariots of Fire won four Academy Awards, including Best Original Screenplay for its writer, the late Colin Welland, whose inimitable podium declaration "The British are coming!" was replayed the world over.
Editor-in-Chief at Moviescramble. A Fan of all things cinematic with a love of Film Noir, Sci-Fi and Julia Roberts in Notting Hill. He hopes to grow up some day.
Latest posts by John McArthur (see all)