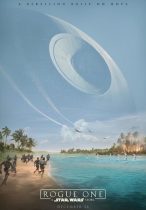 Star Wars films are like buses. You wait ages for one and then two come along at once. Well, ok a year apart but still Disney aren't resting on their laurels and from the look of the latest footage, Rogue One promises to be an excellent spectacle.
Set shortly before A New Hope, the story will centre around a group of Rebel spies as they embark on a mission to steal the plans for the Death Star. If you've seen Episode IV you may already know if they were successful.
A trailer was released earlier this year which whipped fans into a frenzy only for their bubble to be prodded by news that the Disney had ordered extensive reshoots to be done. If anyone had doubts, I'm sure their optimism has been renewed. The latest footage, including some behind the scenes shot, was recently revealed to the thousands of fans in attendance at the Star Wars Celebration in London. This being the internet age, the rest of us didn't need to wait long to enjoy it.

If these latest clips don't get you excited then I find your lack of faith disturbing.
Directed by Gareth Edwards and written by Gary Whitta and Chris Weitz, Rogue One: A Star Wars Story is due for release on December 16th of this year.
Latest posts by Thomas Simpson
(see all)