This month Barbican Cinemas present Head Trips: Films for the Inner Eye to complement this year's Transcender festival of ecstatic, devotional and psychedelic music. The film programme includes the London premiere of the sparkling new digital restoration of trippy Japanese anime Belladonna of Sadness. Plus Werner Herzog's epic trance film Fata Morgana, Sergei Parajanov's hypnotising masterpiece The Colour of Pomegranates and a rare screening of Maya Deren's seminal voodoo documentary Divine Horsemen: The Living Gods of Haiti.
 Belladonna of Sadness
Apparently destined to circulate for years in bootleg form, one of the great, lost masterpieces of Japanese animation, Belladonna of Sadness undertook a painstaking digital restoration last year. A mad 1970s head-trip – on a par with Rene Laloux's Fantastic Planet (1973) for its outré psychedelic imagery – Belladonna of Sadness is a major rediscovery for animation fans.
The last of the adult-themed Animerama trilogy produced by 'Godfather of Manga' Osamu Tzuka and directed by his long-time collaborator Eiichi Yamamoto, its story is derived in part from the legend of Joan of Arc, and in part from Jules Michelet's 1962 proto-feminist history of witchcraft in the Middle Ages, La Sorcière.
Raped on her wedding night by the local lord, Jeanne takes revenge by making a pact with the Devil. Having assumed supernatural powers, she becomes a prominent, feared figure in the village, eventually leading a rebellion against the ruling class. Unfolding as a series of delicate still watercolours, alternating with darkly beautiful moving graphics in the style of Aubrey Beardsley, its transgressive images are set to a mind-blowing psych rock soundtrack from avant-garde jazz composer Masahiko Satohthe.
Divine Horsemen: The Living Gods of Haiti

In 1946, Maya Deren became the first filmmaker ever awarded an artistic Guggenheim grant and used her $3,000 prize money to travel to Haiti. Divine Horsemen began as a study of Haitian dance, but that plan was quickly eclipsed as Deren become increasingly personally engaged with voodoo and its practitioners, eventually becoming initiated as a mambo, or Voodoo Priestess, herself.
Haitian gods and goddesses are living archetypes, reincarnated during rituals in which the deities 'mount' or take possession of dancers, as a rider would a horse. Deren claimed to have been possessed herself in this way by Erzulie, the 'Goddess of Love' – an experience she describes as being enveloped in a 'white darkness' to the point of a complete dissolution of self.
The footage Deren captured of Haitian songs, dances, and religious rituals was remarkable and unprecedented, a record made possible only by her own participation in the events depicted. It remained unedited at her death, and was posthumously assembled into this revealing documentary, complete with commentary composed of extracts of a book Deren published in 1952 recounting her travels.
The Colour of Pomegranates

The director Serjei Parajanov spent five years exiled in a Soviet prison camp for the 'transgression' of creating this mystical, wildly beautiful film. Perhaps only Jodorowsky's The Holy Mountain is quite so beautiful… or so weird.
An unconventional biopic of the eighteenth-century Armenian poet-troubadour Sayat-Nova from cradle to monastery to grave, it's told in a succession of eye-popping tableaux intended to suggest the poet's inner world. Inspired by the jewel-like colours and exquisite detail of antique Persian miniatures. The result is dream-like – immediate and cryptic all at once: three pomegranates ooze red juice on a red tablecloth, bare feet crush grapes, an outlandishly dressed actor tosses a golden ball in the air over and over. As Martin Scorsese, a huge champion of the film, has pointed out – Western audiences may understand little more about Sayat-Nova by the end, but Parajanov opens for them "a door into a timeless cinematic experience."
Fata Morgana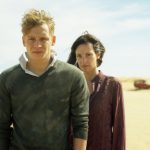 One of the strangest entries in a filmography famed for its strangeness, Fata Morgana is described by its director Werner Herzog as an "Expressionist documentary film." Non-narrative in structure and operating on a poetic, visual level, it is probably best approached as an epic trance film.
Shot in the Sahara, the film meditates on nature and human civilization via a succession of hallucinogenic scenes presenting a desert dystopia of empty landscapes, abandoned cars and decaying animal carcasses. And with the absurdist humour suitably associated with Herzog, the audience is introduced to an assortment of oddballs: a lizard-loving German; a shell-shocked Foreign Legion deserter clinging to a ragged letter from his mum. Brilliantly original, Fata Morgana (meaning 'mirage') is as compelling as it is baffling.
Head Trips runs from the 19th to the 27th of September. See barbican.org.uk/film for more info.
Editor-in-Chief at Moviescramble. A Fan of all things cinematic with a love of Film Noir, Sci-Fi and Julia Roberts in Notting Hill. He hopes to grow up some day.
Latest posts by John McArthur (see all)